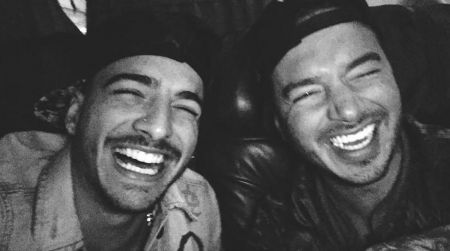 Photo courtesy of Maluma's official Instagram account
In an interview with Sale el Sol on March 9, reggaeton superstar J Balvin said he would like to collaborate with fellow Colombian Maluma sometime. Both acts are at the top of their game and the most in-demand Latinos at the moment. Since coming up, the two have been pitted against each other, but with Balvin's recent comment, that rivalry is starting to seem more media-driven if anything.
On the Latin music scene, J Balvin and Maluma are the biggest artists that are starting to break globally. They both share massive social media followings and their music videos have easily crossed 100, 200 and 500 million views.
Maluma's breakthrough hit, last year's "Felices Los 4," has reached 1.2 billion views while J Balvin's "Mi Gente" with Willy William sits at 1.6 billion visits on YouTube. The Colombians from Medellin have also transcended the Latin music charts with three entries apiece on Billboard's all-genre Hot 100. Maluma charted with this year's "Corazón," as a featured act on Shakira's "Chantaje" and with the No. 48-peaking "Felices." Balvin beat the odds in 2015 with "Ginza," hit No. 3 with the Beyoncé remix of "Gente" and debuted on the chart this week with Nicky Jam and their "X" song.
J Balvin and Maluma are also the most sought after acts for collaborations. Justin Bieber, French Montana and Queen Bey have worked with Balvin while Maluma has recorded songs with Shakira, Flo Rida and Ricky Martin.
Their similar successes as the faces leading the reggaeton music revival have had them put into a rivalry. Media sites were reading into the inclusive message of Balvin's "Gente" as a shot to Maluma's "Cuatro Babys" controversy and conversely, Maluma's boastful "23" was seen as a diss to reggaetoneros like Balvin. The reach to make something out of nothing was real, but at the end of the day, it was more hot fuss over the two.
The guys poked fun at the rivalry last week when a member of Balvin's team took a picture with Maluma. Balvin later posted on Instagram that if he's a fan of Maluma then he should work with him and included plenty of laughing-crying emojis.
Speaking with Sale el Sol, J Balvin said that he sees Maluma a lot and loves him just as much and would be open to recording music with him if the opportunity arises. As the ones taking reggaeton and Latin trap music to new and exciting places, it would be amazing to see two of the most successful Latinos team up for what would surely be a smash hit. Balvin and Maluma together would be like a dream duet from Britney Spears and Christina Aguilera in the 2000s.
The guys face off next at the Billboard Latin Music Awards on April 26 where Balvin holds 12 nominations and Maluma has 10.
Lol @JBALVIN 😂😂😂 pic.twitter.com/ZzCTduYnmI

— Lucas Villa (@myprerogative15) March 6, 2018