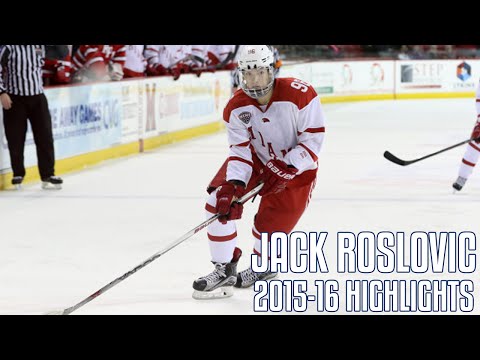 You Tube/Jets Prospects
Joseph Cecconi of Youngstown, New York and Jack Roslovic of Columbus, Ohio are performing offensively for the United States at the 2017 International Ice Hockey Federation World Junior Hockey Championship in Toronto, Ontario. On Tuesday Cecconi and Roslovic each recorded two assists in the United States' 5-2 win over Slovakia.
Cecconi, a defenseman for the University of Michigan, already has more points at the World Junior Hockey Championship than he did in his first 16 games with the University of Michigan Wolverines in 2016-17. While playing in the NCAA this season, Cecconi only recorded one assist. Cecconi was drafted in the fifth round, 133rd overall by the Dallas Stars in the 2015 National Hockey League Entry Draft.
Roslovic meanwhile is a center who has played with the Manitoba Moose of the American Hockey League this season. A first round pick, 25th overall by the Winnipeg Jets in 2015, Roslovic has eight goals and 11 assists for 19 points with the Moose in 2016-17.  
With the win, the United States now improve to two wins and zero losses and next play Russia on Thursday. The Americans are tied with host Canada for first place in Group B, but are currently in first place because of the better goals for and goals against ratio. The Americans are a +8 and the Canadians are a +7.