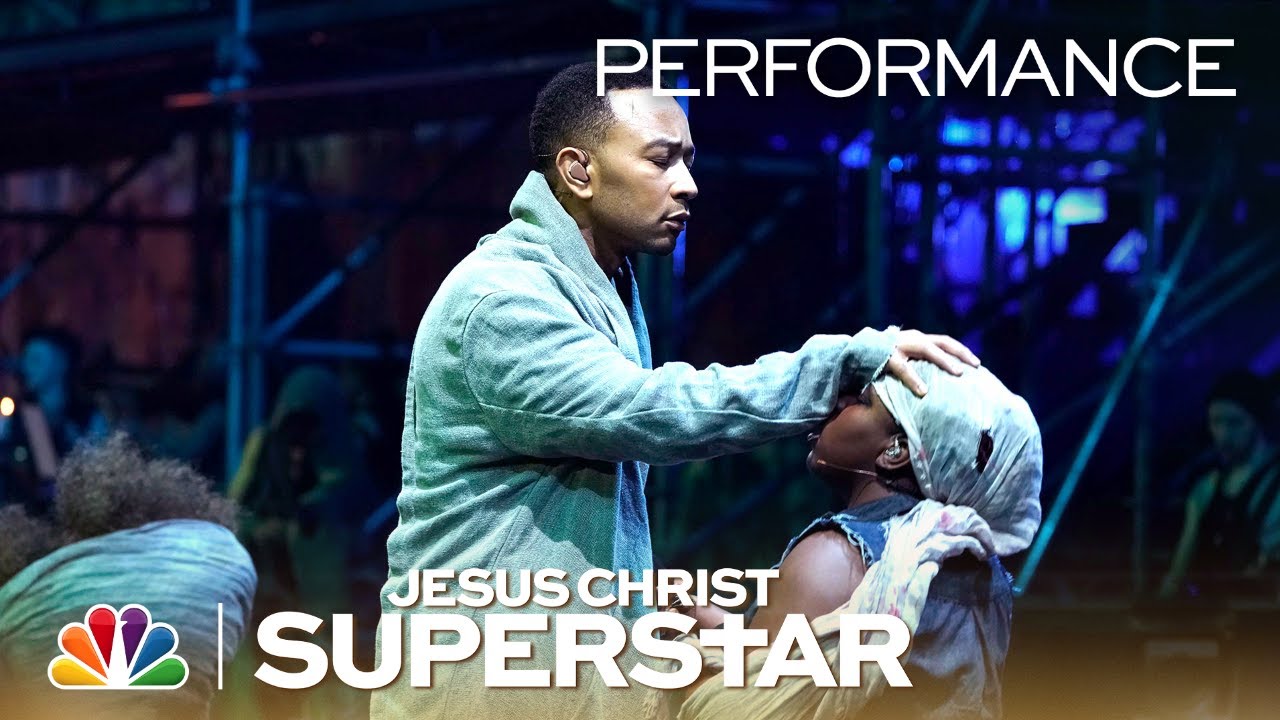 NBC/YouTube
Music fans who enjoyed "Jesus Christ Superstar Live in Concert" on Sunday can now pre-order an album of songs from NBC's live musical event. Jesus Christ Superstar Live in Concert: Original Soundtrack of the NBC Television Event will be released digitally on April 6, and as a physical two-CD set on April 20, according to a press release from Sony Music Masterworks.
The album contains more than two dozen tracks from the musical, which was headlined by ten-time Grammy Award winner John Legend as Jesus Christ and Grammy nominee Sara Bareilles as Mary Magdalene. Rock legend Alice Cooper also had a supporting role as King Herod, while vocal standouts were Brandon Victor Dixon (of "Hamilton" fame) as Judas Iscariot and Ben Daniels ("The Exorcist") as Pontius Pilate. All five are featured on the soundtrack album, which should appeal to both fans of the Andrew Lloyd Webber-Tim Rice musical and mainstream music fans alike.
Those who know anything about "Jesus Christ Superstar" or musical theatre will be floored to hear artists like Dixon and Daniels, both of whom are Tony Award nominees and who delivered some of the most impressive performances in Sunday's broadcast. Daniels' desperate yet powerful work in "Trial Before Pilate" is the example of what makes musical theater great, as it's both a compelling song and a heartbreaking moment where his character's pain and confusion comes through simultaneously. And Dixon shone throughout, getting to lead the whole ensemble in its best-known number "Superstar."
But fans of Legend, Bareilles and Cooper should also add Jesus Christ Superstar Live in Concert to their playlist when the album drops Friday. Legend was every bit the star that music fans expect him to be; watch his performance of "The Temple" by playing the video above. His singing Sunday was as good as anything he's ever recorded on those Grammy-nominated albums, while Bareilles lent a tender vulnerability to Mary and Cooper was his usual larger than life self. Each of these big names delivered and now their performances will be available to enjoy again and again with this record.
Fans who want to see Alice Cooper live can get tickets to see A Paranormal Evening With Alice Cooper through AXS. Cooper will be appearing at Pikes Peak Center in Colorado Springs, CO on Wednesday, Aug. 8; tickets range from $58 to $748, including VIP packages, and can be purchased here. Perhaps at that concert, Cooper can wear the fantastic suit he sported as King Herod.
Below is the complete Jesus Christ Superstar Live in Concert track listing:
1. Overture
2. Heaven On Their Minds
3. What's The Buzz/Strange Thing Mystifying
4. Everything's Alright
5. This Jesus Must Die
6. Hosanna
7. Simon Zealotes/Poor Jerusalem
8. Pilate's Dream
9. The Temple
10. Everything's Alright (Reprise)
11. I Don't Know How To Love Him
12. Damned For All Time/Blood Money
13. The Last Supper
14. Gethsemane (I Only Want To Say)
15. Transition
16. The Arrest
17. Peter's Denial
18. Pilate and Christ
19. King Herod's Song
20. Transition After Herod
21. Could We Start Again, Please?
22. Judas's Death
23. Trial Before Pilate (Including The 39 Lashes)
24. Superstar
25. The Crucifixion
26. John Nineteen: Forty One
27. Curtain Call
Jesus Christ Superstar Live in Concert: Original Soundtrack of the NBC Television Event is now available for pre-order on iTunes.