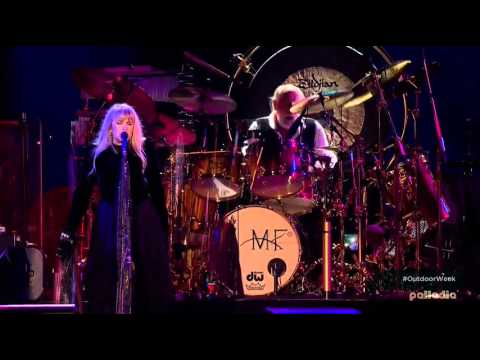 Fleetwood Mac/YouTube
Fleetwood Mac have been named the 2018 MusiCares Person of the Year honorees, and are the first band ever to do so. The classic rock group will be honored for their for their "extraordinary creative accomplishments and significant charitable work," with a concert event at the historic Radio City Music Hall in New York City on Jan. 26, during Grammy Week. This is the first time the special event will take place in New York City since 2003.
Announced on Friday, Fleetwood Mac will be honored at the event with live tribute performances by some of the biggest names in popular music, including Haim, John Legend, Lorde, OneRepublic, Harry Styles and Keith Urban to name a few. More performers are expected to be announced as the start of the new year and awards season draws closer. Fans will remember that Fleetwood Mac's iconic singer Stevie Nicks was on hand as a featured performer at the 2017 MusicCares event in Los Angeles, which honored the late Tom Petty. Petty's memorable speech can be watch in the video below.
Founded in 1989, MusiCares Foundation provides health and personal assistance to members of the music community. The organization also helps to provide workshops for financial, legal, medical and substance abuse education. Proceeds from the event, which will also include a live and silent auction, will be going to the charitable organization.
Since forming in the bluesy-rock era of the late 1960s, and then refiguring their lineup again in 1974 with the arrival of Nicks and guitarist Lindsey Buckingham, Fleetwood Mac have gone on to become one of the most successful acts in the history of popular music. The band have not released an album of new material since 2003, but their full lineup reunited for a successful North American tour in 2014. Buckingham and singer/pianist Christine McVie released their own duet album earlier this year with the appropriately titled, Lindsey Buckingham/Christine McVie.