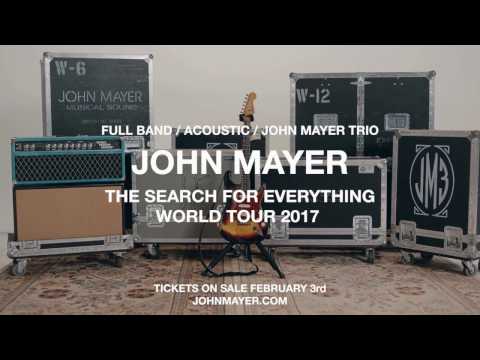 YouTube
John Mayer has just announced that he will extend his The Search for Everything tour and has revealed a number of brand new dates stretching through 2017. Rolling Stone reported that he will add 32 more North American dates to his itinerary and that includes a stop in Dallas on Aug. 5 at the American Airlines Center. Tickets go on sale on March 4.
There is no opening act for the John Mayer Dallas concert but the singer-songwriter has a special concert planned for his DFW audience. Mayer is already touring through the United States this spring and will head over to Europe before heading back for this leg of the tour. In an interesting move, Mayer will perform three distinctive sets in his concert rather than use opening acts.
Mayer will perform an acoustic set for the fans and then bring out the John Mayer Trio for a set. He will also perform his regular set with him fronting a full band with his greatest hits. This summer tour announcement also came after Mayer released four teaser videos for songs that will appear on his upcoming The Search for Everything album, which hits later this spring.
Tickets for the John Mayer Dallas concert go on sale on March 4 at 10 a.m. CST here. Prices for the Aug. 5 concert at the American Airlines Center range from $99 up to $125. The Dallas stop will come between an Aug. 3 concert in San Antonio and an Aug. 6 concert in Woodlands, Texas.