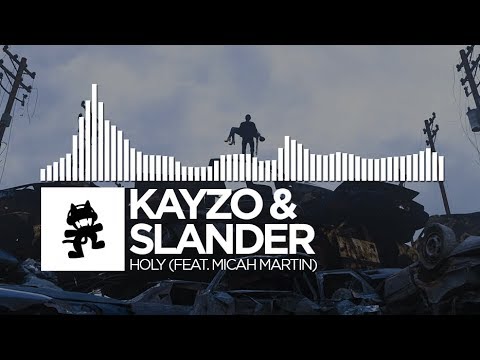 YouTube/Monstercat
Kayzo is picking the perfect time to hit the road to showcase his craft.
Born and raised in Houston and now residing in Los Angeles, Kayzo (b. Hayden Capuozzo) has the trap and hardstyle game pretty much perfected. Before his love of DJing came to be, his first love was playing hockey, but when he attended the Icon Collective in 2012, he found his true calling in life.
After graduating from the Icon Collective, he won the "Discovery Project" challenge for Insomniac, and his career as an EDM DJ was now set in stone. Since then, he has released numerous singles to get his name out there in a crowded field, and his recordings got the ear of one of EDM's iconic DJs, Steve Aoki, and he released the booming "Hasselhouse" on Aoki's label Dim Mak.
He would release EPs and singles under his own imprint, Doghouse Recordings, to a growing fanbase, and that base will only grow bigger when he hits the road this February to headline the first-ever Monster Energy Outbreak Tour. So check out which city Kayzo will bring the party to in 2018, and make sure you get your tickets to an event you won't soon forget.
Keep in mind that all dates and venues are subject to change.
Feb. 1 -- Syracuse, NY -- Westcott
Feb. 2 -- Philadelphia, PA -- Fillmore
Feb. 3 -- Detroit, MI -- The Majestic Theatre (Click here for tickets!)
Feb. 6 -- Cincinnati, OH -- Bogart's
Feb. 7 -- Louisville, KY -- Mercury Ballroom
Feb. 8 -- Richmond, VA -- The National (Click here for tickets!)
Feb. 9 -- Norfolk, VA -- The NorVa (Click here for tickets!)
Feb. 10 -- Asheville, NC -- The Orange Peel
Feb. 14 -- Lincoln, NB -- Bourbon Theatre
Feb. 15 -- Kansas City, MO -- Truman Theatre
Feb. 16 -- Milwaukee, MI -- The Rave
Feb. 17 -- Minneapolis, MN -- Skyway Theatre
Feb. 18 -- Urbana, IL -- Canopy Club
Feb. 21 -- Wichita, KS -- The Cotillion
Feb. 22 -- Albuquerque, NM -- El Rey
Feb. 23 -- Salt Lake City, UT -- The Complex
Feb. 24 -- Las Vegas, NV -- World Market Center
Feb. 27 -- Eugene, OR -- Mcdonald Theatre
Feb. 28 -- Spokane, WA -- Knitting Factory
March 1 -- Vancouver, BC -- Venu
March 2 -- Seattle, WA -- Showbox SoDo (Click here for tickets!)
March 3 -- Boise, ID -- Revolution Center
March 7 -- Chico, CA -- El Rey
March 8 -- Reno, NV -- Cargo
March 9 -- Fresno, CA -- Rainbow Ballroom
March 10 -- San Jose, CA -- San Jose Civic Center
March 15 -- Tucson, AZ -- Rialto Theatre
March 16 -- Phoenix, AZ -- Van Burren
March 27 -- Cleveland, OH -- House of Blues
March 28 -- Albany, NY -- Upstate Concert Hall
March 29 -- Boston, MA -- House of Blues
March 30 -- Washington, DC -- Echostage
March 31 -- TBA -- TBA
April 3 -- Indianapolis, IN -- Deluxe
April 4 -- Nashville, TN -- Exit IN
April 5 -- Knoxville, TN -- The International
April 6 -- St. Louis, MO -- The Pageant
April 7 -- Grand Rapids, MI -- Intersection
April 8 -- Buffalo, NY -- Town Ballroom