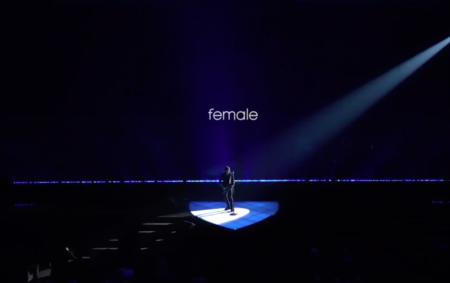 Screenshot
Keith Urban took to the CMA Awards stage tonight (Nov. 8) with a conversation piece about women. His new single, titled "Female," attempts to address systemic sexism and assault against women. Penned by Shane McAnally, Nicolle Galyon and Ross Copperman, the smoldering track features some of the more pointed, frank songwriting to hit country radio this year. "Sister, shoulder, daughter, lover, healer, broken halo, mother, nature, fire, suit of armor, sole survivor, holy water, secret keeper, fortune teller, Virgin Mary, scarlet letter, technicolor, river wild, baby girl, woman-child...female," he lists, fleshing out the power of a woman as far more than what tradition has dictated. The words scrawled across the backdrop as if needles being drug across a chalkboard.
Urban competed for Male Vocalist of the Year and Entertainer of the Year, and took home the trophy for Single of the Year for his waltz ballad "Blue Ain't Your Color," the smash hit from last year's Ripcord album.
"Female" was only written three weeks ago and as a direct response to the Harvey Weinstein sexual assault scandal. "The writers wrote this song on Oct. 10 and I heard it the next day," Urban explained. "I got to hear it fresh out of the oven, and it was instant love for me. I know all three of [the writers] and I think obviously the tone of times right now was weighing on all of them, and compelled them to write this song. It affected me not just as a husband but also as a father of two young girls, and a son. I had a heart reaction — my first thought was that it was a gospel soul prayer mantra, all rolled into one."
Stay tuned to AXS.com for all your awards show coverage.