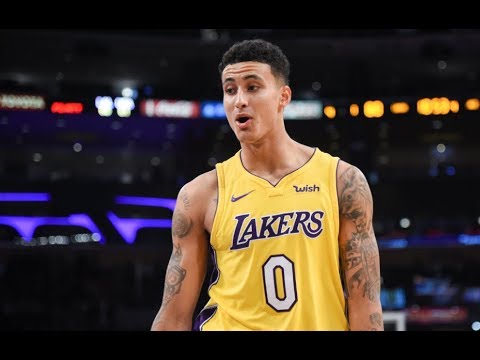 NBA/YouTube
When the Los Angeles Lakers entered the 2017 NBA Draft with two first round picks (Nos. 2 and 27), no one would have been surprised if the team had a rookie earning accolades after little more than a month in the league. The expectation would have been that Lonzo Ball would be the player receiving recognition.
Although Ball has enjoyed his moments, Kyle Kuzma has burst onto the scene. The power forward from Utah received Western Conference Rookie of the Month honors Friday. Starting in place of the injured Larry Nance Jr., Kuzma posted 16.7 PPG, which leads all rookies out West, and shot 50.4 percent from the field. Kuzma also finished second among rookies in rebounding by snatching 6.1 RPG.
These are the first rookie awards handed out, and the distinction covers both November and the abbreviated October.
Head coach Luke Walton moved Kuzma back to the bench when Nance returned to the lineup from a hand injury. Based on how Kuzma played as a starter (18.1 PPG and 7.5 RPG), Walton will need to find more minutes for the athletic big man.
Kuzma, who has scored in double figures in 18 of his 20 games, tallied a career-high 30 points against the Philadelphia 76ers on Nov. 17. In the Eastern Conference, Ben Simmons received the Rookie of the Month honors.
Simmons, who missed last season with a foot injury and still qualifies as a rookie, is the favorite for Rookie of the Year.
Kuzma will look to continue his torrid pace against the Denver Nuggets on Saturday night. The Lakers return to Staples Center on Dec. 3 when they host the Houston Rockets.
For more Lakers news and tickets to select home games, keep it here on AXS.com.