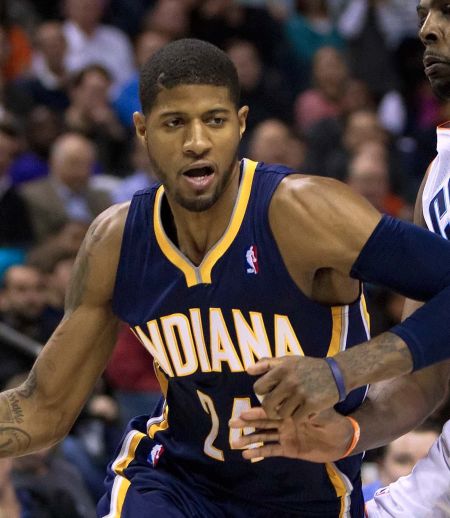 commons.wikimedia.org
Heading toward the NBA trade deadline on Feb. 23, the Los Angeles Lakers were rumored to be in trade talks with the Indiana Pacers for superstar Paul George. The Boston Celtics were also said to be in the running for George with Larry Bird left with a tough decision to make.
Apparently, Magic Johnson, who was recently named president of basketball operations, spoke to his former on-court rival ahead of the deadline. Many assumed the discussion was about George's availability, but Bird denies talking about a trade or even being motivated to make a move while on the phone with Magic, via Tania Ganguli of the L.A. Times:
"I wasn't motivated to move Paul George at the deadline," Bird said. "I can't remember if it was even brought up or not. I don't think it was. It's all fake news anyway. You know that. Somebody's gonna start it and [it] just was a snowball effect. [The phone call] was not about Paul George."
Shortly after Magic was given the new role with the Lakers, the rumor surfaced of George's discontent with the Pacers and desire to bolt for Los Angeles when he can become a free agent in the summer of 2018. 
George has apparently made it clear that if the Pacers aren't contending before he becomes a free agent, he intends to sign with his hometown Lakers in free agency. Obviously, this could be nothing more than a tactic by George to force Bird's hand into making a deal or deals to improve the roster in Indiana. 
On the other hand, George may feel it is time to move on with his sights set on going home to play for the team he grew up watching. Needless to say, this is probably isn't the end of the George-to-the-Lakers talk as trade rumors will almost certainly spark up once again this summer.