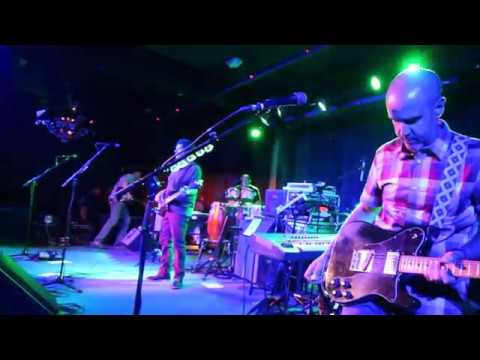 Must Have Media/YouTube
New York jam band moe. played in Portland, Maine on Friday night (Feb. 16) where they engaged in a little political setlist sorcery. As Jambase reported, guitarist Al Schnier isn't bashful about sharing his political views on Twitter and apparently, he also isn't afraid to share them during moe.'s live shows. Schnier put up a setlist from Portland that became an anagram spelling out "Trump Is A Lying Ass." You can check out the entire setlist below.
Schnier also took the time to address the crowd during the al.nouncements section of the show. Schnier urged the audience to take their stewardship of the country seriously and to be vigilant while introducing a brand new, politically-charged song called "Kicking and Screaming."
"This next song is a brand new song. I don't want to tell you what to do. However, if nothing else I'll encourage you to pay attention. I think that we deserve better and that's all I'm going to say about that. Your politics aside, your beliefs aside, I think that we deserve better and it's up to us. That's the way this whole thing was built. So, just pay attention. It's our job. It's by the people, by the people … it's our fucking job. Every now and then people tell me to shut and play my guitar, but that's not my job because I'm one of you too. This is my job, this is what we do. So this is for all of us." You can listen to the entire show below taped by Brian V.
moe.'s last studio album, No Guts, No Glory arrived in 2014 as the follow up to their 2012 LP What Happened to the LA LA's. The band is set to play New York City's historic Beacon Theatre on Sat. Feb. 23. You can find tickets on AXS by clicking here.
moe. heads to Colorado this summer. The band is set to play Denver's Ogden Theatre on May 31 followed by a night at Red Rocks on June 1 with Phish bassist Mike Gordon and Austin electro-jammers White Denim. Tickets for the Ogden show are sold as a bundle with the Red Rocks show. You can find ticket info on AXS by following this link.
moe. Portland, ME 2-15-19:
Set I
Tailspin>
Ricky Marten>
Understand
Meat
Punchline
It
Set II
Seat of My Pants>
Akimbo
Little Miss Cup Half Empty>
YOY
I Can Never Remember
New Hope for the New Year
George
Assfinger aka Bullet
Encore
Screaming and Kicking
Spaz Medicine