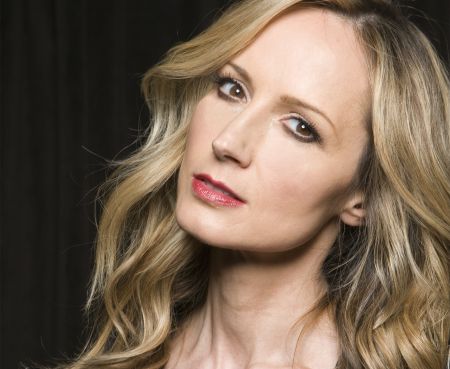 Photo courtesy of Shock Ink
No matter the venue, Chely Wright commands undivided attention. Her voice is reedy, soothing to the soul like a hearty bowl of chicken noodle soup. During her New York City show at the City Vineyard at Pier 26 on Wednesday evening (Feb. 15), the singer--formerly a mainstream darling in the late '90s-early '00s--was utter magic, breathing new life into such radio staples as "Single White Female" (with an appropriate lyrical shift), "It Was" (which opened her set) and "Shut Up and Drive." Coming off the release of her latest studio record, the exquisite and potent I am the Rain, she was joined by multi-instrumentalist Levon Henry--the son of legendary producer and Wright collaborator Joe Henry (who produced her new album). Armed with a luscious and sexy saxophone, Henry wove a caramel-smooth tone into Wright's live performance, mimicking the excellent and expressive material (framed by the bass clarinet on recording) for such highlights as "Holy War," "You are the River," "Tomorrow is a Long Time" (an obscure Bob Dylan tune) and "Pain"--elegant and cutting timepieces of Wright's journey since major heartbreak, a particularly devastating time in her life.
Wright was charming, too, taking plenty of time to reflect on her legacy and mountainous peaks of her career, including the first time she played the Grand Ole Opry and another time Porter Wagoner gave her one of Dolly Parton's well-worn guitars. "[I learned] to be present in every second," she told the crowd of lessons Wagoner instilled within her core. Wright didn't pick up that guitar to actually work until years later, when she was teaming up with songwriter Rodney Crowell for the new record, penning the song "Pain" to great effect. She evokes the spirit of Mary Chapin Carpenter and Rosanne Cash, stamping out a raw live vocal not many get to witness in person. Later in her set, she also whipped out the cheeky "Something Positive and Hopeful," after reveling in an humorous anecdote about her dark song submissions to her record label. On more than a few occasions, her sassy Twitter persona bubbled up, particularly satisfying with barbed, witty kiss-offs to the powers that be.
Related: Interview: Chely Wright on her new album 'I Am the Rain' and surrendering to pain
Wright's most powerful and overwhelming moment came in the form of "Where Will You Be," in which she reflects on the charred edges of her emotions and in picking up the pieces of her brokenness. "Will you be able to call me? Or did you burn down that bridge to my door? Did you leave it with any compassion? Or a clean break that you're famous for? Do you even suspect that it's coming? That the storm is just gathering strength. Where will you be when it hits you when you see what a mess you have made...?" fluttered from her lips. The singer, 46, has flourished into one of country's most meaningful and important storytellers, decorating her work with weathered temperament. "Mexico" proved to be another one of the evening's highlights, tapping into the shiny allure and mystique of trucker life and midnight truck stops--drawing upon her own personal fascination with the lifestyle and people who inhabit it. "I wait on tables here, ain't quite how I planned it," she sang, stepping into the blue-collar character with grit and frankness. "Pay's not that great, but I do alright in tips. I took the job to get me by when my husband left me stranded. I still don't know where the hell he is."
Wright even gave the spotlight to Henry for a performance of his own song "Passing Ship," a cut from his latest LP, Sinker. His voice is grainy and textured with ripened wisdom far beyond his years. His songwriting unfussy but poignant, as he likewise glides across the surface of melodies. He is marksman, that much is clear. Check out his music on iTunes.
Wright is in a masterclass of her own, though. Her voice is spellbinding, which begs to be heard on a nationwide tour. The emotion and integrity she can pack into a 90-minute-plus show is brashly simple, not flashy or arrogant like so many who were once topping the country radio charts. She's grounded and as real a person as they come. She glows brighter than anyone could possibly imagine. With only a guitar and little else to support her, Wright is a marvel.
Don't forget to grab Wright's new album I am the Rain now on iTunes.
Stay tuned to AXS.com for any and all updates.