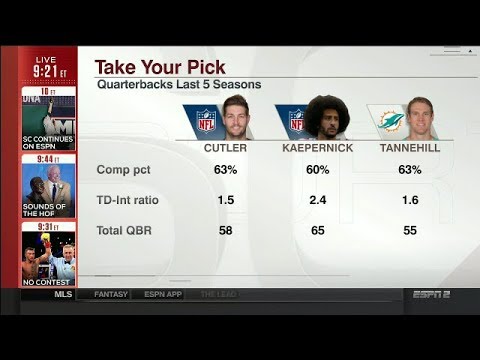 NFL First/YouTube
NBA commissioner Adam Silver has built a reputation for his progressive forward thinking, and Mark Cuban has doubled down on that theory.
As the NFL continues to deal with the controversy surrounding Colin Kaepernick's absence from training camps around the league, Dallas Mavericks owner Mark Cuban said that NBA teams would not have a problem signing Kaepernick. 
Kaepernick initially gained notoriety when he was spotted sitting for the national anthem. He then used that attention–while kneeling throughout the remainder of the season for the San Francisco 49ers–to spark a national debate on politics and race in America.
"I don't know what his status is in the NFL, but I'm glad the NBA doesn't have a politician litmus test for our players," Cuban told the Washington Post. "I'd like to think we encourage our players to exercise their constitutional rights."
To illustrate just how petrified NFL teams are regarding Kaepernick, the Miami Dolphins reportedly considered signing Tim Tebow before settling on Jay Cutler. Tebow is currently playing baseball in the New York Mets farm system.
A recent ESPN report said that the Baltimore Ravens management and coaching staff were keen on the idea of bringing Kaepernick into camp, but ownership was holding up a potential deal.
The NBA is no stranger to political protest, though. When Eric Garner was choked to death by a New York City police officer, many NBA players, including LeBron James, wore t-shirts that read, "I can't breathe."
Silver never fined the players, and interest in the league has never been higher.
The NBA's progressivism toward social issues won't help Kaepernick find a job, however. His prospects don't seem promising, either, as players like Geno Smith, Brian Hoyer, Ryan Fitzpatrick, and Dan Orlovsky–most prominently known for accidentally running out of the back of his own end zone–all have jobs. 
Other NFL players, including Seattle's Doug Baldwin and Richard Sherman, have spoken out in support of Kaepernick.