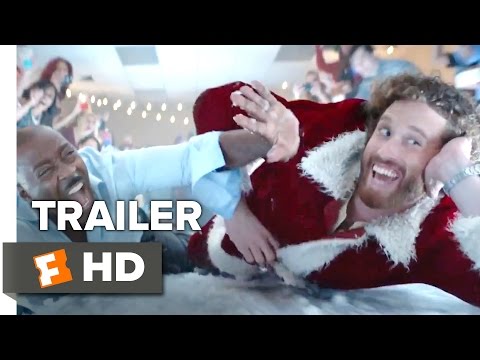 Paramount Pictures, 2016.
"Office Christmas Party"
It's not the only R-rated Christmas movie to see a release this holiday season, but it's the best. Ok, that's not saying all that much when the other film in contention was the disastrously unfunny "Bad Santa 2," but still, "Office Christmas Party" has just enough laughs to sustain it as a watchable Christmas romp. The audacious, eccentric comedian T.J. Miller has inherited his father's tech company, but his villainess sister, played by the mean-spirited Jennifer Aniston (a role she's been oddly type-cast in recently after building a career as being goofy and likable) is threatening to down-size the company with major cut-backs.  In an effort to win over a huge client (the always great Courtney B. Vance, who just wowed audiences as Johnny Cochran on TV's "The People vs. OJ Simpson: American Crime Story"), Miller and company throw a massive, balls-to-the-wall bash at their high-tower office in downtown Chicago, to impress him.  If he can be swayed, jobs will be saved, you see.  Jason Bateman is in familiar territory here too, as the straight-man he always plays, who is recently divorced and in a budding relationship with a co-worker played by Olivia Munn.  The comedy is lazy and conventional, the premise is flimsy and tired, but the ensemble is filled out with enough bit performances that make the overall effort worthwhile enough.  Vanessa Bayer is always a delight, and there are funny supporting performances by Randall Park, Kate McKinnon, Da'Vine Joy Randolph, Karan Soniand Jillian Bell...it's a bit odd, because the "known" actors like Bateman, Aniston, Miller and Rob Corddry are the least funny of the bunch.  There is a break-out performance here by Fortune Feimster - known mostly from her role as Colette on "The Mindy Project" - who is a scene-stealing Uber-driver, and whose two scenes in the film are the funniest in the whole movie.  This is a slight thumbs-down though, just because much of the movie - especially the middle-third - really drags, but this one had a lot more laughs than one might expect judging on the trailer, or the overall premise.  Not quite a lump of coal, but nothing that would crack our recent 10 Best Christmas Movies of the 2000s.  Grade:  C+
Genre: Comedy.  Runtime: 1 hour, 45 minutes, Rated R.  Starring: Jason Bateman, Olivia Munn, TJ Miller, Jennifer Aniston, Kate McKinnon, Rob Corddry, Courtney B. Vance, Vanessa Bayer.  Directed by Will Speck and Josh Gordon ("The Switch," "Blades of Glory")
"Miss Sloane"
Jessica Chastain stars in the title role of "Miss Sloane," which is the sort of film that believes it is much slicker and cooler than it actually is.  The result, per norm, is that we are left with an abrasive, annoying movie-going experience that just never lives up to the film's own image of itself.  Miss Sloane is a powerful lobbyist, and the movie - directed by John Madden (who most recently helmed the two "Best Exotic Marigold Hotel" films) - believes that it is an Aaron Sorkin film, where snappy, snarky dialogue reigns supreme.  But the character is off-putting, to the point that we never root for her nor do we care all that much in what she's doing.  The script too - by first-time screenwriter Jonathan Perera - is so twisty and turny that it plays as fantasy.  That's a shame too, because the initial premise set in the world of powerful Washington D.C. lobbyists, was a promising, and timely, one.  Alison Pill, John Lithgow, Sam Waterston, Mark Strong, Michael Stuhlbarg and Gugu Mbatha-Raw round out the cast, but they're all just playing thin characters set in place to propel this preposterous story forward.  Who is this movie meant for?  Surely not me, and most likely not for most people.  Grade:  C-.
Genre: Thriller, Suspense/Thriller.  Runtime: 2 hours, 12 minutes, Rated R.  Starring: Jessica Chastain, Alison Pill, Jacob Lacy, Michael Stuhlbarg.  Directed by John Madden ("The Second Best Exotic Marigold Hotel," "The Best Exotic Marigold Hotel," "Captain Corelli's Mandolin," "Shakespeare in Love")
Both films open locally on Friday, Dec. 9, 2016 (check for showtimes).
Next week film reviews will include:  "Rogue One: A Star Wars Story," Natalie Portman as "Jackie," and the critically-acclaimed "La La Land" starring Ryan Gosling and Emma Stone.  Follow @tomsantilli on Twitter for all the latest movie reviews on AXS.com.