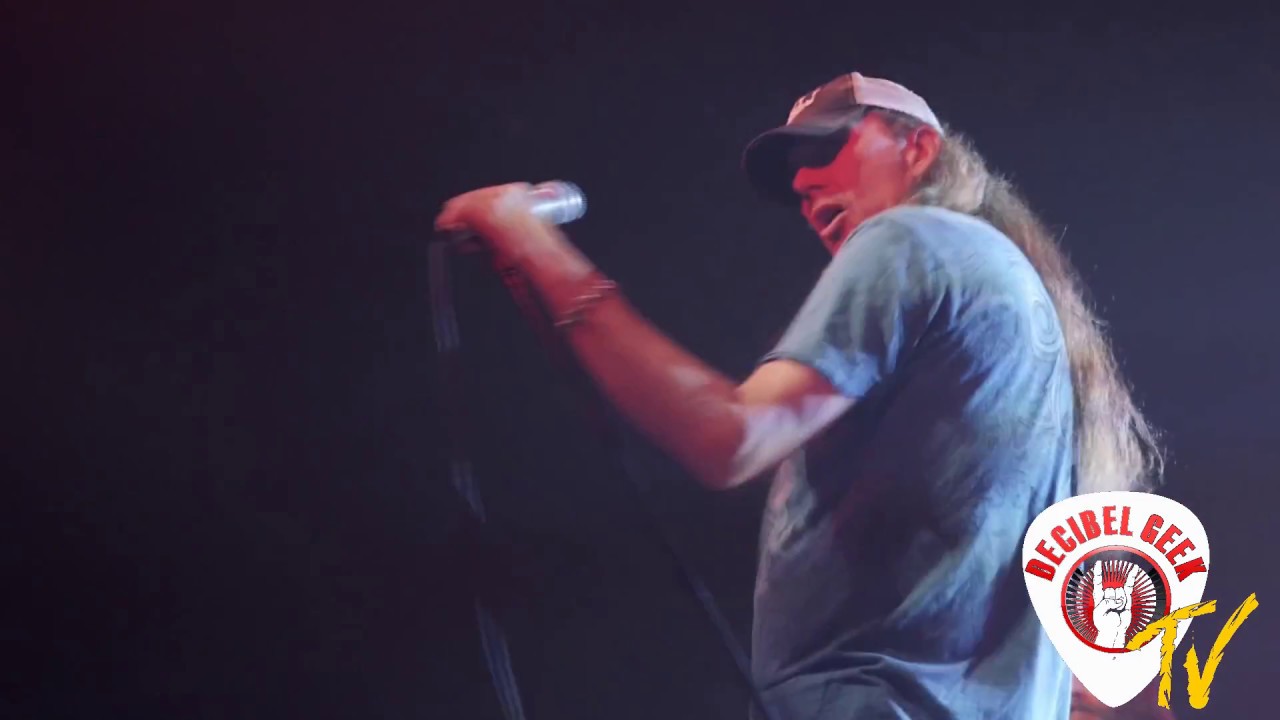 Decibel Geek/YouTube
Nashville may be known primarily for its country music, but in recent years it has also become more and more of a rock and roll factory, producing successful acts like Kings of Leon, Paramore, and Moon Taxi. But that hasn't always been the case. In the late '80s, a successful rock act out of Nashville was practically unheard of, even more so a metal act. But one act, Every Mother's Nightmare, broke that mold, finding significant airtime on MTV's Headbanger's Ball and opening slots for acts like Dream Theater and Cheap Trick. Now, over a decade after they released 2002's Deeper Shade of Grey, the band is back with their first full-length album for High Vol Music, Grind.
Grind consists of the five songs recorded for their self-released 2015 EP version of the album, three new recordings, and three live tracks of their classic-era hits "Closet", "Walls", and "Push." The enhanced CD also includes videos for "Push" as well as the newer tracks "Blown Away" and "Loco Crazy."
Leading the band on this record is the sole original member and vocalist Rick Ruhl, although founding drummer Jim Phipps has also joined the band. With Ruhl's voice and songwriting at the fore, fans of Every Mother's Nightmare's classic era output will find an immediate familiarity in Grind. The band came out at a time when '80s style hair metal was giving way to grunge and their sound, both then and now, straddles that line. There's a lot of the bluesy melodic tendencies of '80s bands like Tesla melded with the grittier alternative metal of bands like Alice in Chains. But Ruhl's southern-rock tinged drawl draws the closest comparison to fellow '90s rockers Brother Cane.
Every Mother's Nightmare might be taking the independent route for their latest release, but that hasn't stopped them from enlisting some serious star power to help out. Zach Myers from Shinedown lends his guitars to the album's standout track "Loco Crazy." Wayne Swinny from Saliva guests on "Snake." But the most surprising, and most interesting was the guest slot of Black Oak Arkansas' Jim Dandy, who gives a huge Southern rock boost to the track "Stand Up" with a vocal assist.
Grind may end up being a tough sell for dedicated Every Mother's Nightmare fans who may already own the bulk of the album from purchasing the EP. The new songs help to some degree but the likely sell here are the live tracks and the videos. For people who remember Every Mother's Nightmare for their Headbanger's Ball appearances or their regular presence on Nashville rock radio and didn't know they were back, Grind is a much more appealing return. It's hard for a band to come back after a decade away and sound like they did when they left. Every Mother's Nightmare does.