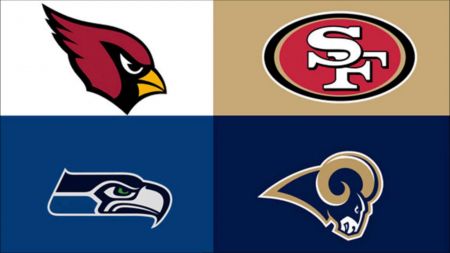 commons wikimedia
Week 14 of the 2016/17 National Football League season (where has the time gone?) got underway Thursday night. The Kansas City Chiefs slowed the Oakland Raiders' inevitable drive to a Super Bowl LI championship. At least that's what the ever-talkative Raiders' fans have been saying since Week One. With the win, Kansas City takes over the AFC West lead. Oakland falls to the Number Five seed. But, there is plenty of football left.
Some of that football will happen in the NFC West. The division belongs to Seattle and has for weeks. The Arizona Cardinals picture themselves in the playoff hunt. But they would have to climb over five teams in order to make the post-season. That may work as a plot-point for "Pitch." But it is less than a likely scenario in the real-life NFL. 
What to watch and when to watch it? Humbly, that's what makes us beloved by hundreds of millions.
Cardinals @ Dolphins, 1 p.m.Eastern/10 a.m. Pacific, FOX: We might as well get right into the Arizona Cardinals. They have been an anomaly all season. Statistically, they belong among the conference elites. Fifth in offense? First in defense? What's not to like? Heck, what's not to love? A record of 5-6-1 is what not to love...or even like. They travel across the country to play an early game against the Miami Dolphins. The 'Fins are on the outside of the playoff picture, but that could change in a heartbeat should Week 14 break right for them. Arizona is a two-point favorite. Take the Dolphins. They should win outright.
Jets @ 49ers, 4:05 p.m. Eastern/1:05 p.m. Pacific, CBS: Alas, the 49ers went into Chicago last week, just a one-point underdog. It was a game in which they should have been competitive. It was a game they should have had a chance to win. They lost by 20 points. Meanwhile, the Jets were doing their own version of a fold job against Indianapolis, losing 41-10. The 49ers are a 2.5-point favorite. Here is where it is time to drop some betting knowledge. When two teams play, and they both appear to have quit on the season, take the home team. As unlikely as it seems, take the 49ers and give the points.
Falcons @ Rams, 4:25 p.m. Eastern/1:25 p.m. Pacific, FOX: Atlanta comes into this one clinging to a tie-breaker division lead over Tampa Bay. The Falcons would be so much more comfortable if a two-point conversion last week against Kansas City hadn't gone so terribly wrong. Most people had never heard of a "Pick Two," and it cost Atlanta a ballgame. L.A. continues the Jared Goff era with little to show for it so far except, "Yup! He's a rookie!" The Falcons are a six-point favorite. That's quite a lot of lumber to lay against a team with a really good defense. And L.A. has one of those. But the Falcons need this one and need it badly. Give the points on the road.
Seahawks @ Packers, 4:25 p.m. Eastern/1:25 P.m. Pacific, FOX: This may turn out to be the best game of the day! The Seahawks are elite. The Packers are improving. The game is in December and in Green Bay. Aaron Rodgers almost never loses at home this late in the season. Seattle is a three-point favorite, but expect this one to be decided in the final minute, either way. Give the three points. Seattle deserves that much respect. But don't be shocked if Green Bay wins it outright.