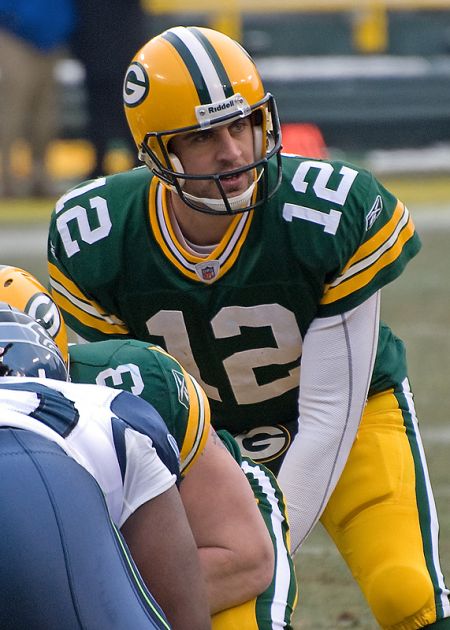 Wikipedia Creative Commons
And then there were four. After all that talk about the Falcons possibly playing their final game at the Georgia Dome, they're back, thanks to the Packers' upset of the Cowboys. Can Green Bay pull off one more upset to get to the Super Bowl?
In a way, perhaps we should all be rooting for the Packers out of gratitude. After all, they finally gave us an exciting playoff game this year. The Packers-Cowboys contest was truly fantastic, with Mason Crosby kicking a field goal as time expired to give Green Bay a 34-31 win. The Packers had been hot, having won their final six regular season games and their first playoff game, but this was particularly impressive. Going on the road to beat the Cowboys, especially without Jordy Nelson, showed this is not a team to mess around with.
Let's not forget about the Falcons, though. They are the home team and the higher seed. Atlanta took down the Seattle Seahawks relatively easy, winning 36-20. As per usual, they were powered by their offense. That's the story of the Falcons, and it has been all season. They have the league's best offense, but their defense is a question mark. Staring down a matchup with Aaron Rodgers, that has to be concerning.
Both of these teams are excellent offenses with questionable defenses. This has the making for a high scoring, barn burning, sort of game. Matt Ryan could be the MVP, but Rodgers has been an MVP in the past. Nelson is banged up, but so is Julio Jones, who is even more vital to the Falcons than Nelson is to the Packers. This game should be a ton of fun…unless you are a fan of one of these teams. Then it could be miserable if they lose. Granted, the Packers have some fine recent history, including a Super Bowl with Rodgers under center, but the Falcons are still hoping for their first Super Bowl win.
Home-field advantage couldn't save the Cowboys, but the Falcons have a little more experience under center. This is a really difficult game to pick. Will Green Bay keep on winning? Will Rodgers run the table all the way through Houston? Or will the Falcons send the Georgia Dome out with a bang? Just because Green Bay has been winning and winning, that doesn't mean they are guaranteed a win or a loss. However, since Atlanta is at home, by the narrowest of margins they are the pick here.
Prediction: Falcons 42, Packers 38
Green Bay Packers (10-6) at Atlanta Falcons (11-5), Sunday Jan. 22, 3:05 PM ET
Line: Falcons -5.5
Injury Report:
Packers:
Sam Shields, CB            Injury Reserve   
Morgan Burnett, S         Questionable
Jordy Nelson, WR         Questionable
Falcons:
Julio Jones, WR               Questionable      
Adrian Clayborn, DE        Out