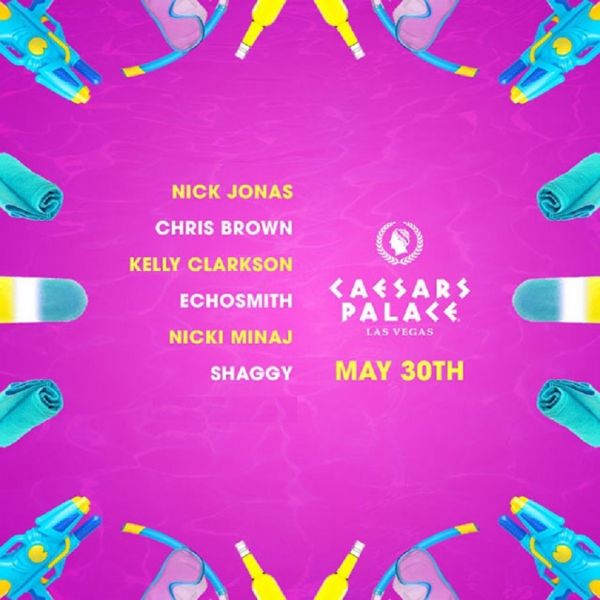 via official press release
The official lineup for this year's iHeartRadio Summer Pool Party concert has been revealed today in a press release, and some big names are on the list. Performing at the 2015 concert will be singer Nick Jonas, R&B artist Chris Brown, rapper Nicki Minaj, Kelly Clarkson, and more. The 2015 iHeartRadio Summer Pool Party will take place on May 30 in Las Vegas at the Caesars Palace.
Nick Jonas helped reveal that he is part of the lineup by releasing a SnapChat video today. Other acts that will perform at the 2015 iHeartRadio Summer Pool Party includes Shaggy, and the American pop rock band Echosmith. This does not complete the official lineup. More acts are expected to be revealed at a later date.
Those who cannot make the event can still watch it. The 2015 iHeartRadio Pool Party will be streamed via Yahoo Live. The free stream begins May 20 at 8 p.m. Pacific Time. The pool party concert will also be broadcast in a television special. That special will air on The CW June 11 at 9 p.m. Eastern Time.
There are special Caesars Palace packages available to purchase. Each package includes two tickets to the concert, and a minimum of a two-night stay at the hotel. You must be at least 21-years old to purchase the package.
Before the concert kicks off there will be a daytime pool party with DJs providing the music. Last year's concert had such artists as Iggy Azalea, Ariana Grande, Lil Jon, Jennifer Lopez, and Neon Trees. For more information about the 2015 iHeartRadio Pool Party visit the concert's official website here.