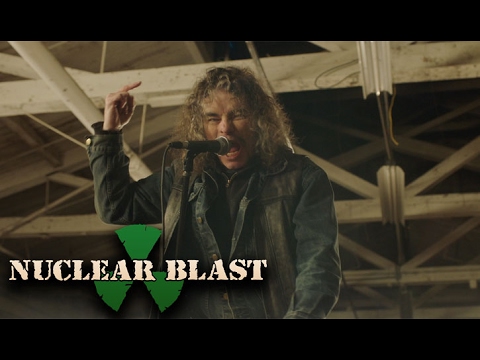 Nuclear Blast Records/YouTube
The annual Metal Alliance tour has delivered a ton of amazing performance across the country since 2011, and they're not stopping any time soon with the announcement of 2017's installment today. Headlining the event are Overkill, who are plugging their new studio album The Grinding Wheel. Last month, the New Jersey outfit revealed that drummer Jason Bittner has replaced Ron Lipnicki, who left the band shortly after the album's release. Bittner is best known for his time in Shadows Fall.
Playing the role of direct support is Crowbar, who are supporting their latest album The Serpent Only Lies. This is their second time on the Metal Alliance tour; the outfit were on the inaugural lineup. Rounding out the tour lineup are Havok, Black Fast, and Invidia.
The trek kicks off on Sept. 8 in Joliet, Illinois, and it will conclude with a performance in Easton, Pennsylvania on Sept. 30. During this tour, Overkill, Crowbar, and Havok will be a part of the Full Terror Assault music festival in Cave In Rock, Illinois. You can check out the entire tour routing below.
Pre-sale tickets are available here. If you want to throw in few more dollars, you can pick up the VIP package, which includes a meet and greet and photo op with the bands, hot sauce, a VIP laminate, a poster, and early entry.
Metal Alliance tour dates
Sept. 8 - Joliet, IL - The Forge
Sept. 9 - Cave In Rock, IL - Full Terror Assault (no Black Fast, Invidia)
Sept. 10 - Pontiac, MI - Crofoot Ballroom
Sept. 11 - Pittsburgh, PA - Diesel Club Lounge
Sept. 12 - Rochester, NY - The German House Theater
Sept. 13 - New York, NY - Irving Plaza
Sept. 14 - Richmond, VA - The Canal Club
Sept. 16 - Ft. Lauderdale, FL - Culture Room (no Havok)
Sept. 17 - St. Petersburg, FL - State Theatre (no Havok)
Sept. 18 - Jefferson, LA - Southport Hall
Sept. 19 - Austin, TX - Come and Take It Live
Sept. 20 - Dallas, TX - Gas Monkey
Sept. 22 - Mesa, AZ - Club Red
Sept. 23 - Pomona, CA - The Glass House
Sept. 24 - Las Vegas, NV - Brooklyn Bowl
Sept. 25 - Salt Lake City, UT - The Complex
Sept. 26 - Denver, CO - The Summit Music Hall
Sept. 28 - Waterloo, IA - Spicolis
Sept. 29 - Dayton, OH - Oddbodys
Sept. 30 - Easton, PA - One Centre Square