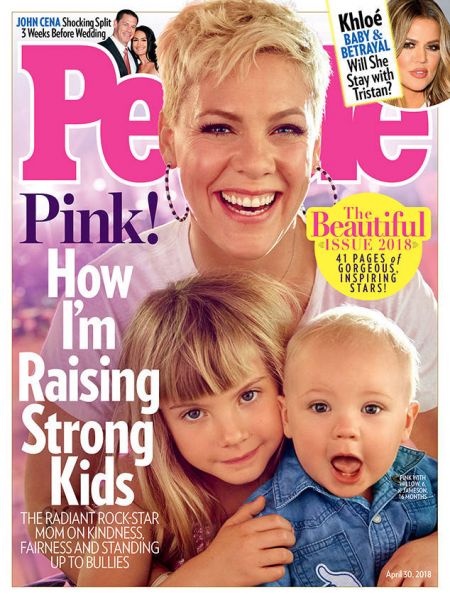 Courtesy of People Magazine
Grammy-winner and all-around bad ass P!nk was revealed as the choice for this year's cover of People Magazine's 'Beautiful' issue.
The 38-year-old singer, who appears on the cover with her children Willow Sage Hart, 6, and Jameson Moon Hart, 15 months, revealed on a recent appearance on The Ellen Degeneres Show that she "laughed out loud" when she found out about the honor. "I immediately turned to whoever was in the room and said, 'Did you ever think this was as good as it gets?'" she said. "I feel more beautiful [now]" the singer joked, "and I have decided that for the whole week that the magazine is out, no one is allowed to look me directly in the eyes."
Always outspoken since her debut in 2000, the singer received raves for the speech she gave while accepting the 2017 MTV Michael Jackson Video Vanguard Award.
Discussing a recent conversation she had with her daughter that involved being teased and having a poor body image, P!nk reminded her daughter of her uniqueness. "I said to her, 'Do you see me growing my hair?' She said, 'No, mama.' I said, 'Do you see me changing my body?' 'No, mama.' 'Do you see me changing the way I present myself to the world?' 'No, mama.' 'Do you see me selling out arenas all over the world?' 'Yes, Mama.' 'OK! So, baby girl. We don't change. We take the gravel and the shell and we make a pearl. And we help other people to change so they can see more kinds of beauty."
P!nk's next stop on her Beautiful Trauma tour is April 19 at John Paul Jones Arena in Charlottesville, Va.