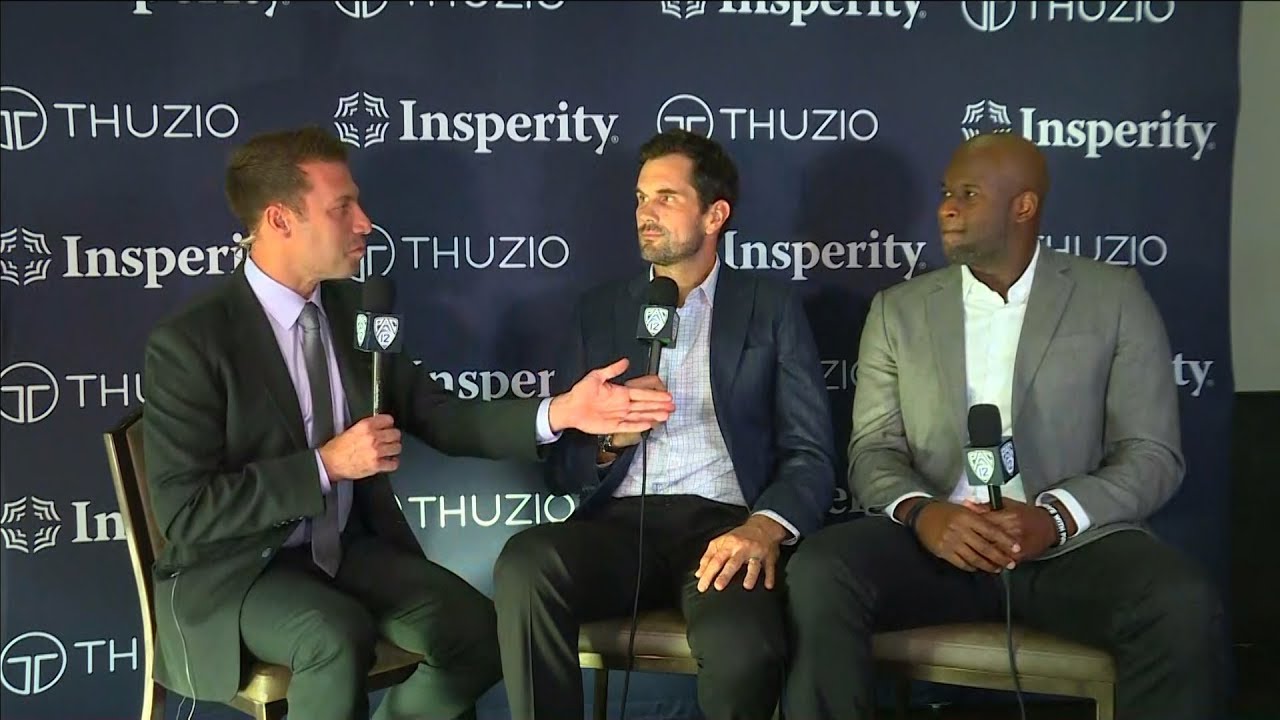 Pac-12 Networks/YouTube
The Pacific-12 Conference has four football teams ranked in the Associated Press Top 25 this week, with three other undefeated teams also earning votes. Overall, that is seven teams on the radar of the pollsters when it comes to ranking the best teams in the country right now. That is some serious league strength for the Conference of Champions, and those seven teams don't even include undefeated California, shockingly.
Of those eight teams that are receiving votes—or should be—only two teams have a loss already, and both defeats are considered "good" defeats, in the sense, they were road losses to ranked teams. That's the kind of performance the Pac-12 needs to keep putting up every week in order to secure a spot in the College Football Playoff come December.
The highlight of the Pac-12 schedule this week is a matchup between No. 10 Washington and Utah, which is "ranked" 26th in the AP poll. The Utes are a tough out at home, and the Huskies cannot afford another loss this season if they want to crash the CFP like they did in 2016. Another interesting matchup features the No. 22 USC Trojans visiting the Texas Longhorns. Read below for more information on both these games.
On to Week 3 predictions, where our overall season record is 16-7 right now after an 8-3 effort last week. Games are listed in chronological order by kickoff time (all times Pacific). Check back with us on Tuesday to see how we did.
UC Davis at No. 9 Stanford (11 am Saturday): Remember when the Aggies beat the Cardinal in a major upset? That was in 2005 when Stanford was down and basically out. There is no way the Cardinal are going to lose this time around, however, even if the Aggies are a solid Football Bowl Subdivision squad. Running back Bryce Love is not going to play for Stanford in this one, but it will not matter. Stanford 41, UC Davis 10.
New Hampshire at Colorado (2 pm Saturday): The Buffaloes scored a major win last week at Nebraska, and they should continue their winning ways against the Wildcats. Colorado won the Pac-12 South two seasons ago, and that stands as the school's best season since 2001. Is it possible the Buffaloes could win ten games again this year? They have an outside shot, and they will win this easily. Colorado 49, New Hampshire 13.
San Jose State at No. 20 Oregon (2 pm Saturday): The Ducks win the award for scheduling cupcakes this year, for after beating Bowling Green and Portland State, they now host the Spartans from Silicon Valley—who lost to UC Davis in Week 1 and got shutout by Washington State in Week 2. Expect no trouble for Oregon in this game. Oregon 63, San Jose State 17.
Idaho State at California (3 pm Saturday): We are not sure how good the Golden Bears really are, but they have two wins over major-school opponents so far this season—which is more than most Football Bowl Subdivision teams can claim right now. That being said, the Bengals are an FCS team playing on the road, so Cal should win this game. However, we do not expect a blowout. California 35, Idaho State 21.
Oregon State at Nevada (4 pm Saturday): This is one of those head scratchers where you wonder why a Pac-12 team would hit the road to face a Mountain West team. The Beavers took it on the chin against Ohio State in Week 1 on the road, and while the Wolfpack do not present the same challenge, the Oregon State program has more growing to do before it can win a game like this on the road. Nevada 27, Oregon State 21.
Eastern Washington at Washington State (5 pm Saturday): The Cougars have beaten two MWC teams pretty convincingly so far this season, so we do not expect them to have any trouble facing the Eagles. The game is at home for WSU, but EWU is located just 75 miles north of Pullman, so there will be a crowd there for the underdogs. That might help a little bit, but it won't be enough. Washington State 37, Eastern Washington 10.
No. 22 USC at Texas (5 pm Saturday): This is not 2005, as we noted with the UC Davis-Stanford matchup. That was the year of the epic championship game between these two teams. The Longhorns lost to Maryland in Week 1, and they barely beat Tulsa in Week 2. Meanwhile, the Trojans lost on the road to Stanford last week with a freshman quarterback making his second collegiate start. USC has the definite talent edge here. USC 35, Texas 17.
No. 10 Washington at Utah (7 pm Saturday): The Utes are a good team, but they have not faced a squad like the Huskies this year yet. What plays in Utah's favor is the home game in Salt Lake City. However, we expect plenty of Washington fans to make the journey to see this game. The Utes are just 1-4 against Washington since joining the conference, as well. Look for the Huskies to squeak this one out. Washington 27, Utah 24.
No. 23 Arizona State at San Diego State (7:30 pm Saturday): The voters probably didn't watch the Sun Devils' win over Michigan State last week, since it ended around midnight Pacific Time, and most voters were asleep. Arizona State was fortunate to win the game, and the Spartans beat themselves, mostly. This is a classic trap game for the Sun Devils against an Aztec team at home in front of frenzied fans. San Diego State 20, Arizona State 17.
Fresno State at UCLA (7:30 pm Saturday): If the Bruins lose this one, it could get ugly for Head Coach Chip Kelly. But former Cal coach Jeff Tedford leads the Bulldogs, and he knows how to beat Pac-12 teams. UCLA has looked lost in its first two games, and perhaps it is going to take longer for Kelly to replicate his Oregon success in Westwood. Fresno State 21, UCLA 14.
Southern Utah at Arizona (8 pm Saturday): The Thunderbirds lost to the Oregon State last week, by a lot, and they will lose to the Wildcats this week, by a lot. That says more about Southern Utah than it does about Arizona, however. The Wildcats need a win before heading into Pac-12 play, and Head Coach Kevin Sumlin was expected to do more after coming over from Texas A&M. Arizona 55, Southern Utah 24. 
For Pac-12 sports coverage and events all year, keep it here on AXS.com. Check back frequently for new content!