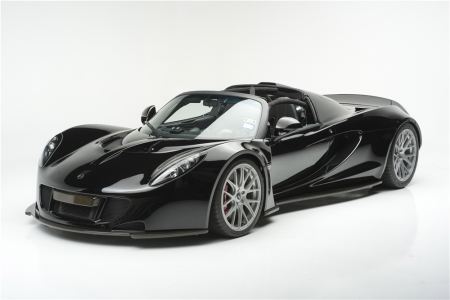 Courtesy of Barrett-Jackson Collector Car Auction
Going once, going twice, sold! The annual Barrett-Jackson Collector Car Auction is set to take place Jan. 14-22 at WestWorld in Scottsdale, Arizona, and as always the event will be non-stop fun for auto enthusiasts and those who wish to bid on one of more than 1700 highly-desired vehicles that'll cross the auction block. And while some of the cars are celebrities in their own right, like the 1986 Ferrari Testarossa "Miami Vice car" and Dale Earnhardt Jr.'s 2014 Chevrolet #88 race car, many celebrities will be on hand in the flesh as their vehicles go up for sale.
Among the stars scheduled to appear at this year's auction are Aerosmith front man and solo performer Steven Tyler, who'll be selling his 2012 Hennessey Venom GT Spyder, and Justin Bieber, whose 2011 Ferrari 458 Italia will be on the auction block. Earnhardt, movie star Burt Reynolds and National Baseball Hall of Fame member Reggie Jackson will also attend the auction. An auto once owned by late Beatles member John Lennon will also be for sale; the 1956 Austin Princess, originally a hearse, was owned by Lennon right around the time he was writing the smash hit "Imagine."
Whether owned by a celebrity or not, certainly every car going up for auction this year has a story. In the case of the Charlie Thomas collection, that would be 140-or-so stories, as that's how many cars the famed collector will have crossing the block. Everything from pre-war classics to muscle cars to one-of-a-kinds like the 1960 Chevrolet Engineering Research Vehicle "CERV 1" will be on hand; the latter was the "testbed" for advancements in the Corvette in the '60s.
The Barrett-Jackson Collector Car Auction is open to everyone; you don't have to be bidding on a vehicle to attend. And there will be plenty to do for attendees, including a BMX exhibition, Dodge thrill rides and Indian Motorcycle demo rides. A series of "Behind the Hobby" symposiums will take place and there will also be daily "automobilia" auctions. Cars will be available for viewing in multiple places, including at the Meguiars Staging Lanes where auction attendees can see the cars being prepped right before they cross the auction block.
The first two days of the event will be preview days where no vehicles are auctioned and opening day Jan. 14 will be Family Value Day. Ticket options are many and can be purchased for the whole week or by the day. Discounts for seniors, members of the military and students are available with valid ID; children also get a discount with kids under five-years-old getting in free. Twilight passes that are good for admission after 5:00 pm will be available on select days.
Tickets for the Barrett-Jackson Collector Car Auction are available at the gate or online here.