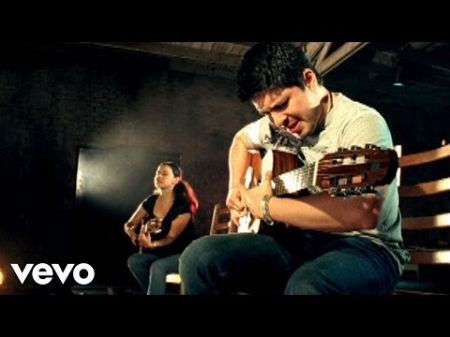 YouTube
It's been a decade since Rodrigo Sánchez and Gabriela Quintero released their self-titled debut album, ushering in their highly original instrumental sound to the world music stage. Now, the Mexican-born duo known as Rodrigo y Gabriela is celebrating that album's release with a deluxe reissue featuring two bonus tracks and a live DVD/CD set recorded in Dublin, Ireland. Rodrigo y Gabriela is available March 31 through ATO Records in a variety of formats: a two-CD/DVD set, a double LP/DVD set and digital download.
The two guitarists have been described by The New York Times as "if the Gypsy Kings had taken possession of Jimmy Page," and their debut is where that comparison first gained traction. Future concert staples like "Tamacun" and "Diablo Rojo" are propelled by Sánchez and Quintero's uniquely percussive approach to the instrument, while their cover of Led Zeppelin's "Stairway to Heaven" nods to their heavy metal fandom, even if it's played on entirely acoustic instruments.
"Our metal band Tierra Acida didn't break through," Quintero told Acoustic Magazine earlier this month, "and we decided that our chances of getting a record deal were non-existent after chasing one for years." In 1999, she and Sánchez moved to Dublin, where, without knowing much English, they began busking to earn a living. "Before we left home, we decided to sell all of our electric instruments and travel with two cheap acoustic guitars rather than pay to move all our gear over there. … We made a good living there, and then our music started happening more organically."
Not that organic meant tempering the adventurous nature of their sound any. As their Dublin set Live at the Olympia Theatre proves, the duo was still capable of dipping into their past for inspiration. The centerpiece of the disc is a medley of Metallica's "One" and the Dave Brubeck Quartet's "Take Five" that stretches for more than 15 minutes. Another track, the original composition "Foc," goes for more than eight minutes. As for the bonus cuts, there's "Seniorita XXX," which first appeared on a Japanese version of their debut, and "Amuleto," which was part of a nine-song demo they recorded in 2001 and eventually re-released (without the track) a year later as re-Foc.
Rodrigo y Gabriela remains as comfortable playing a music festival like Bottlerock as they do appearing onstage at the Kennedy Center in Washington, D.C., both of which they accomplished last year. They even earned the admiration of the most powerful man in the world. In 2010, the duo was asked to play the White House, with both U.S. President Barack Obama and Mexican President Felipe Calderón in attendance. "I remember Barack introducing us to the Mexican president and his wife, who didn't have a clue who we were," Quintero told The Independent in 2014, "and Obama said, 'You don't know them? They're from Mexico—I have their music in my iPod!'"