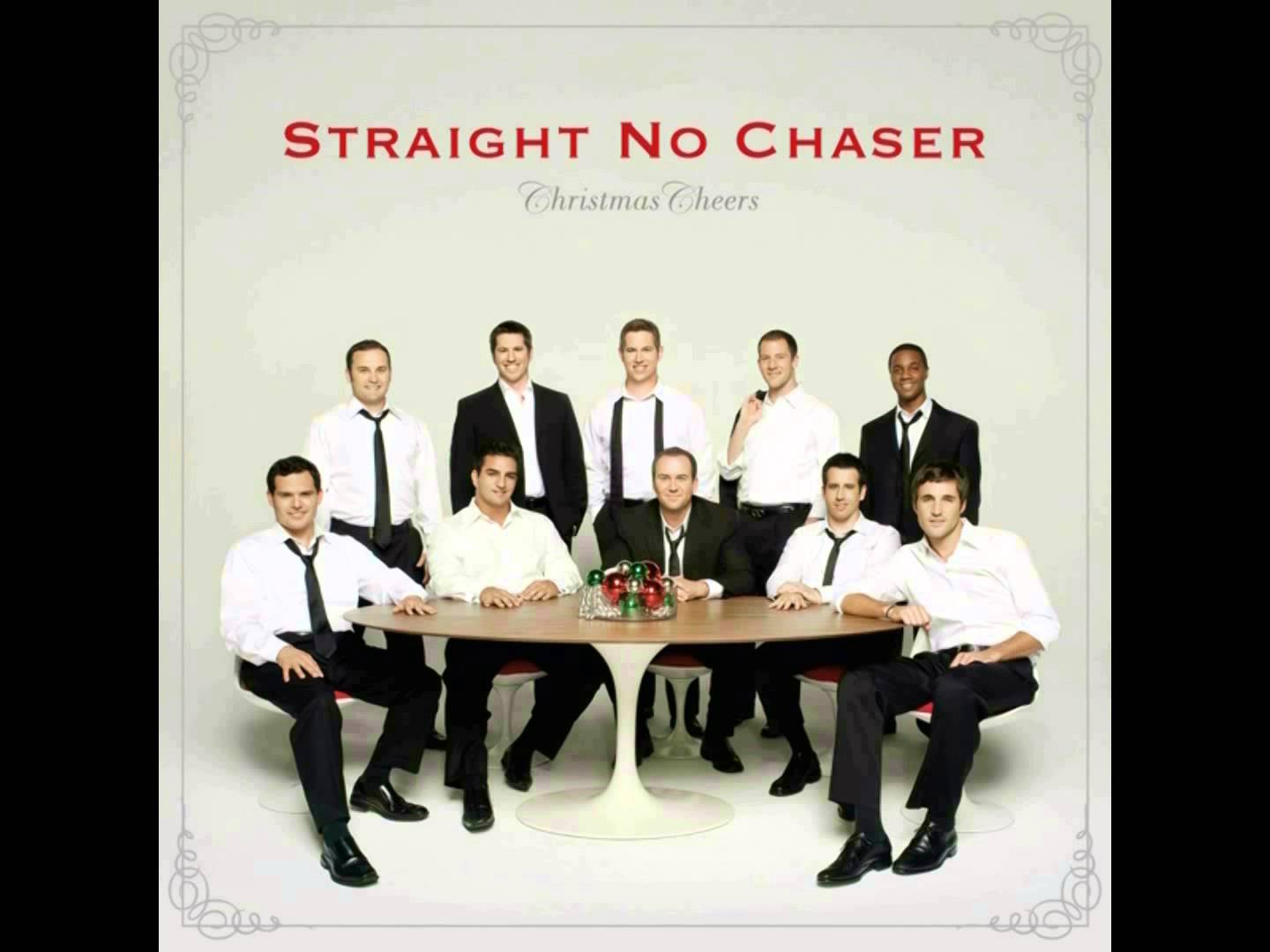 YouTube/Peter Cherek
Some of the best groups in modern music history  got its start as a college band. One can easily add Straight No Chaser to this prestigious list.
Straight No Chaser was formed in 1996 on the campus of Indian University. The band's founder, Dan Ponce (who's no longer with SNC) wanted to create an A cappella group that would make a lasting impact on a music scene that, at the time, was starting to fill to the brim with numerous boy bands and southern hip-hop.
Their name was inspired by a song by the great Thelonious Monk, and SNC (which, for those not in the know, is a popular catchphrase of ordering a drink) made its debut with an astonishing 36-hour dance marathon in Chicago, performing at such iconic Windy City landmarks such as Navy Pier and Wrigley Field.
The group's harmonious singing began to get them noticed by music legends such as Lou Rawls, who invited SNC to open for his tour in the late '90s. Before the '90s became the 2000s, all ten members of the band were replaced by a new batch of singing college students, which was not out of the ordinary as SNC was, at this time, was still a college singing group.
That all changed in 2006, when a 1998 video of the group performing "The 12 Days of Christmas" appeared on YouTube. It was a surprising smash hit, with the video being viewed over 21 million times, becoming a viral hit. With that, the original members of SNC re-formed and signed a deal with Atlantic Records, no longer making them just a college singing group.
Now, SNC is hitting the road, bringing their harmonious sounds together on the One Shot Tour, and here's how fans to get their hands on tickets to a show that no one will want to miss. Keep in mind that all dates and venues are subject to change.
June 1 -- Carmel, IN -- Center for the Performing Arts
July 8 -- Costa Mesa -- Pacific Amphitheatre
July 10 -- San Diego, CA -- Humphrey's Concerts by the Bay
July 11 -- Paso Robles, CA -- Vina Robles Amphitheatre
July 12 -- Uptown Theatre -- Napa, CA
July 13 -- Saratoga, CA -- Mountain Winery
July 14 -- Jacksonville, OR -- Britt Pavilion
July 17 -- Vienna, VA -- Wolf Trap
July 18 -- Portsmouth, NH -- Music Hall
July 19 -- Reading, PA -- Santander Performing Arts Center
July 20 -- Chautauqua, NY -- Chautauqua Institution Amphitheater
July 21 -- Cohasset, MA -- South Shore Music Circus
July 22 -- Hyannis, MA -- Cape Cod Melody Tent
July 23 -- Ocean City, NJ -- Ocean City Music Pier (2 Shows)
July 24 -- Selbyville, DE -- The Freeman Stage at Bayside
Sept. 12 -- Helsinki, Finland -- House of Culture
Sept. 14 -- Arendal, Norway -- Arendal Kulturhus
Sept. 15 -- Drammen, Norway -- Drammens Teater & Kulturhus
Sept. 17 -- Stockholm, Sweden
Sept. 18 -- Skive, Denmark -- Skive Theater
Sept. 20 -- Paris, France -- Le Trianon
Sept. 21 -- Brussels, Belgium -- La Madeleine
Sept. 22 -- Utrecht, Netherlands -- Tivoli Vredenburg
Sept. 23 -- London, UK -- O2 Shepherd's Bush Empire
Sept. 24 -- Liverpool, UK -- Epstein Theatre
Sept. 25 -- Dublin, Ireland -- Vicar Street
Oct. 26 -- Prior Lake, MN -- Mystic :Lake Showroom
Oct. 27 -- Davenport, IA -- Adler Theatre, Rivercenter
Oct. 28 -- Springfield, IL -- Sangamon Auditorium
Oct. 29 -- Appleton, WI -- Fox Cities Performing Arts Center
Oct. 30 -- Cedar Rapids, IA -- Paramount Theatre
Nov. 1 -- Billings, MT -- Alberta Bair Theater
Nov. 2 -- Denver, CO -- Paramount Theatre (Click here for tickets)
Nov. 3 -- Albuquerque, NM -- Kiva Auditorium at Albuquerque Convention Center
Nov. 4 -- Greely, CO -- Union Colony Civic Center
Nov. 7 -- Salina, KS -- Stiefel Theatre for the Performing Arts
Nov. 8 -- Midwest City, OK -- Hudiburg Chevrolet Center at Rose State College
Nov. 9 -- Midland, TX -- Wagner Noel Performing Arts Center
Nov. 10 -- Houston, TX -- Cullen Performance Hall at University of Houston
Nov. 11 -- Dallas, TX -- McFarlin Auditorium at SMU
Nov. 13 -- Des Moines, IA -- Civic Center of Greater Des Moines
Nov. 14 -- Rockford, IL -- Coronado Theatre
Nov. 15 -- Lexington, KY -- Lexington Opera House
Nov. 16 -- Birmingham, AL -- Alabama Theatre
Nov. 17 -- Lakeland, FL -- Youkey Theatre at RP Funding Center
Nov. 18 -- Jacksonville, FL -- Florida Theatre
Nov. 23 -- Atlanta, GA -- Fox Theatre
Nov. 24 -- Charlotte, NC -- Ovens Auditorium
Nov. 25 -- Baltimore, MD -- Lyric Opera House
Nov. 27 -- Columbus, OH -- Palace Theatre (Click here for tickets)
Nov. 28 - South Bend, IN -- Morris Performing Arts Center
Nov. 29 -- Fort Wayne, IN -- Embassy Theatre
Nov. 30 -- Midland, MI -- Midland Center for the Arts
Dec. 1 -- Milwaukee, WI -- Riverside Theatre
Dec. 2 -- Dayton, OH -- Schuster Performing Arts Center
Dec. 4 -- Grand Rapids, MI -- DeVos Performance Hall
Dec. 5 & 6 -- Pittsburgh, PA -- Benedum Center for the Performing Arts  
Dec. 7 - Uncasville, CT -- Mohegan Sun Arena
Dec. 9 -- Hershey, PA -- The Hershey Theatre
Dec. 13 -- Bloomington, IN -- Indiana University Auditorium
Dec. 14 -- Evansville, IN -- Old National Events Plaza
Dec. 15 -- Chicago, IL -- Civic Opera House (2 Shows)
Dec. 16 -- Cleveland, OH -- KeyBank State Theatre (Click here for tickets)
Dec. 18 -- St. Louis, MO -- The Fabulous Fox Theatre
Dec. 19 -- Detroit, MI -- Fox Theatre
Dec. 20 -- Cincinnati, OH -- Taft Theatre
Dec. 21 - 23 -- Indianapolis, IN -- Murat Theatre at Old National Centre
Dec. 27 -- Mesa, AZ -- Mesa Arts Center
Dec. 28 -- Hollywood, CA -- Dolby Theatre
Dec. 30 -- Portland, OR -- Keller Auditorium
Dec. 31 -- Seattle, WA -- McCaw Hall at Seattle Center