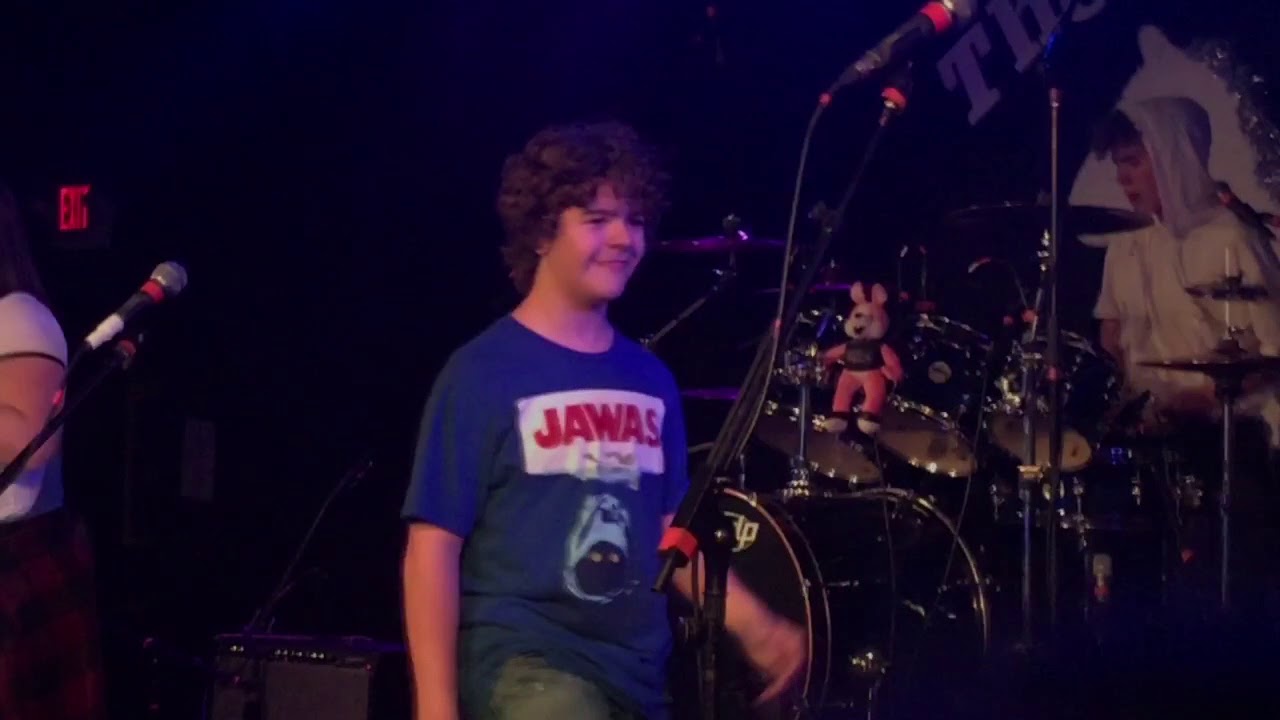 BeccaRaptor94 YouTube
"Stranger Things" star Gaten Matarazzo got a sweet social media surprise when Paramore lead singer Hayley Williams recently gave him a Twitter shout out for his "Misery Business" cover with his band Work in Progress. Williams watched a fan-posted YouTube video of the cover and was so happy with it that she issued the charismatic actor and singer an open invitation to join Paramore on stage at a 2018 tour stop of his choosing.
Matarazzo was thrilled to capture Williams' attention and quickly replied with his own tweet saying "Dude!! Yesss!!!! Let's make this happen!" Williams replied telling him she would send the 2018 tour schedule to him and he could pick a date.
Gaten Matarazzo began his acting career on Broadway before landing his award-winning role as Dustin Henderson on Netflix's critically-acclaimed sci-fi drama "Stranger Things." The 15-year-old New Jersey native recently posted several clips and photos of his band, Work in Progress, rehearsing and performing some classic rock hits including a cover of Jimmy Eat World's "The Middle" on the band's Instagram account. He also announced Work in Progress now has its own Twitter account @WIPBandOfficial.
A fan posted Work in Progress' cover of Paramore's 2007 Billboard Hot 100 Top 40 hit "Misery Business" at the Stone Pony in Asbury Park, N.J., which prompted Williams' invite (watch the video above and read Williams' Twitter post below). Matarazzo recently joined his "Stranger Things" cast mates at the 2018 Golden Globe Awards, for which the series was nominated for Best Drama Series against "The Crown," "Game of Thrones," "This is Us," and category winners "The Handmaid's Tale."
Work in Progress is scheduled to perform with The Flukes, Sonic Blume, and The Ones You Forgot at the Starland Ballroom in Sayreville, New Jersey on Feb. 3. Click here to purchase tickets from AXS. Paramore is also touring this year, including a stop at The O2 in London on Jan. 12. Click here to purchase tickets from AXS.
dear @GatenM123, @itstayloryall & i saw your band's Miz Biz cover and all i can say is: 🤘🏼. open invite to crash a pmore stage and thrash those luscious locks around (& harmonize, obv) whenever the spirit (of rock) leads you.

— hayley from Paramore (@yelyahwilliams) January 6, 2018