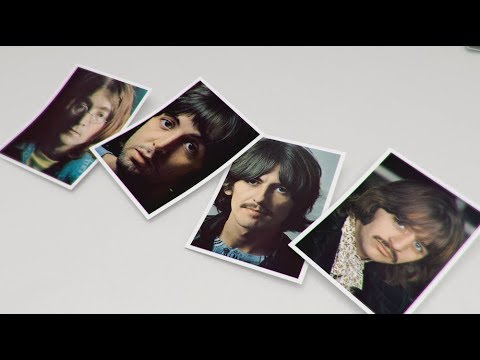 The Beatles YouTube
The Beatles' eponymous album, aka The White Album, re-entered the Billboard 200 chart in the Top 10 (for the chart dated Nov. 24), Billboard reports. The album hit the chart at No. 6, following its 50th Anniversary reissue on Nov. 9, with 63,000 units earned. The figure reportedly represents a massive 1,499 percent sales increase, per Nielsen Music data.
The White Album was originally released on Nov. 22, 1968, as The Beatles' ninth studio album. It topped charts in multiple countries and reportedly spent nine non-consecutive weeks atop the Billboard 200 chart between Dec. 28, 1968, and March 1, 1969. The album's re-entry on the chart marks its first appearance in almost five decades.
As previously reported, The White Album has been reissued and remastered before. But, the 50th Anniversary reissue notably boasts a brand-new mix and rare demos and session recordings are included as bonus tracks. Three different versions of the reissue were released:  The Standard, which is a 2-LP vinyl set, a Deluxe 3-CD, 4-LP vinyl box set (limited edition) and a Super Deluxe 6-CD/Blue-ray set which is individually numbered.
Some of The Beatles' biggest hits hailed from The White Album, including "Ob-La-Di, Ob-La-Da," "Helter Skelter," "Back in the U.S.S.R.," "Blackbird," "While My Guitar Gently Weeps," "Julia" (which John Lennon penned in honor of his late mother) and more.
The Beatles have been releasing complimentary videos to coincide with the 50th Anniversary reissue of their iconic self-titled record. One of which is a new lyric video for "Back in the U.S.S.R.," which was posted on the band's YouTube channel on Nov. 6. They also released a new video to accompany the 2018 mix of "Glass Onion" and several more visuals to compliment the 50th Anniversary recordings.
Legendary Beatles frontman Paul McCartney has also recently enjoyed a resurgence of solo chart success when his most recent studio album, Egypt Station, gave him his career-first solo album Billboard 200 chart-topping debut and undoubtedly helped him land his first-ever Artist 100 No. 1 rank.
Watch an album trailer for The White Album 50th Anniversary Reissue above and stay tuned to AXS for updates on The Beatles.