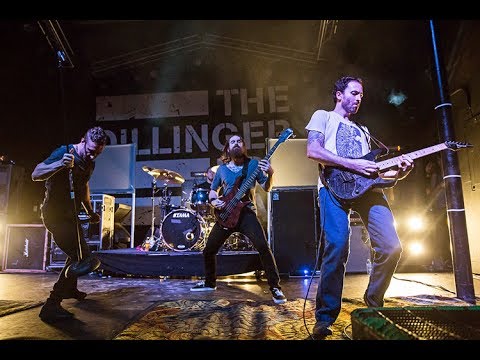 karmela.vuksan/YouTube
After nearly a year since revealing plans to disband, influential New Jersey metal outfit The Dillinger Escape Plan have unveiled details on their final show ever today. The band will have their swan song inside Terminal 5 on Friday, Dec. 29. This will be the official conclusion of touring around the world in support of their final studio album Dissociation, which topped the Hard Rock Albums chart.
For this final show, they're bringing some big openers. Noise rock outfit Daughters are slated to release their fourth studio album before the year is over. This will be the follow up to their 2010 self-titled studio album. Pittsburgh metalcore band Code Orange have been touring with acts like System Of A Down and Anthrax in support of their latest studio album Forever, which peaked at number four on the Hard Rock Albums chart.
Tickets for The Dillinger Escape Plan's final performance will go on sale this Friday at 10 a.m. EST on AXS. Before saying goodbye forever, the outfit will be touring Europe, Australia, New Zealand, and Japan. Check out their tour dates below. Since their formation back in 1997, The Dillinger Escape Plan have been called one of the world's most dangerous rock bands because of their energetic live performances.
The Dillinger Escape Plan tour dates
Aug. 8 - Nuremberg, Germany - Hirsch
Aug. 9 - Jaromer, Czech Republic - Brtual Assault
Aug. 10 - Krakow, Poland - Kwadrat
Aug. 11 - Budapest, Hungary - A38
Aug. 12 - Zagreb, Croatia - Mochvara
Aug. 13 - Wien, Austria - Szene
Aug. 14 - Prague, Czech Republic - Palac Akrof
Aug. 15 - Cologne, Germany - Gloria
Aug. 16 - Leipzig, Germany - Conne Island
Oct. 13 - Hobart, Australia - Odeon
Oct. 15 - Perth, Australia - Capitol
Oct. 17 - Adelaide, Australia - Fowlers
Oct. 19 - Melbourne, Australia - The Corner Hotel
Oct. 20 - Richmond, Australia - Corner Hotel
Oct. 21 - Sydney, Australia - Metro Theatre
Oct. 22 - Brisbane, Australia - Max Watts
Oct. 24 - Wellington, New Zealand - San Francisco Bath House
Oct. 25 - Auckland, New Zealand - Kings Arms Tavern
Oct. 27 - Ebisu, Japan - Liquid Room
Oct. 28 - Tokyo, Japan - Cyclone
Dec. 29 - New York, N.Y. - Terminal 5 (get tickets here)