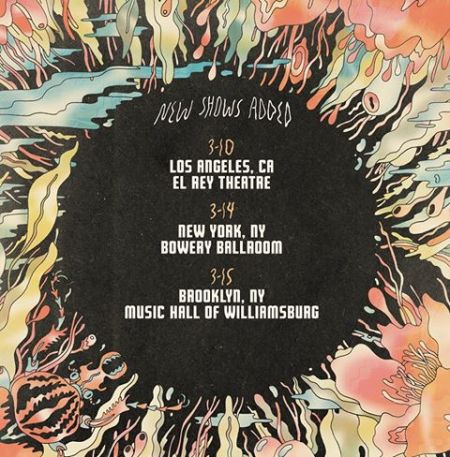 The Shins
Fans of The Shins have been patiently waiting for new music from the band since James Mercer announced back in August of last year that the follow-up LP to 2012's Port of Morrow would be coming early on in 2017. He made true on his promise when they announced shortly after the new year that their upcoming album, Heartworms, would be released on March 10 via Columbia Records.
The band has already revealed some select tour dates for the spring and summer, which includes a run of shows across Europe throughout March followed by a run of North American dates with appearances at Shaky Knees, Sasquatch and Firefly Music Festivals. On Friday morning, the group also announced that they'll be playing a few more intimate shows in New York and Los Angeles right after their new album drops next week before heading overseas for the rest of the month.
The New Slangers will be playing at the El Rey Theatre next Friday, for an intimate album release show, followed by a pair of New York shows at Bowery Ballroom on March 14, followed by a gig at the Music Hall of Williamsburg on March 15.
What makes the three new shows unique, aside from catching the famous band in a small and excitingly intimate setting, is that fans will have to enter and sign up for a chance to buy tickets to all three shows, keeping scalpers and less passionate fans waiting outside.
Fans can sign up and enter the drawing the buy tickets in the links below.
Special Added Shows:
March 10 - Los Angeles, CA - El Rey (Click Here To Enter For Tickets)
March 14 - New York, NY - Bowery Ballroom (Click Here To Enter For Tickets)
March 15 - Brooklyn, NY - Music Hall Of Williamsburg (Click Here To Enter For Tickets)