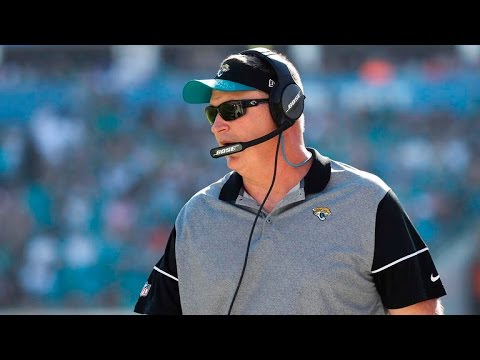 CBS Sports YouTube Channel
The Jacksonville Jaguars are once again looking for answers. They haven't been to the playoffs or even above .500 since 2007 and they have lost double digit games in each of the last six seasons.
In recent years, the Jaguars have thrown crazy money at free agents to try to make the necessary improvements, but haven't been able to find the right combination of players. With several splashy signings this offseason, the Jags are hoping for better results under new head coach Doug Marrone.
Here are the three best moves and the worst one made by the Jacksonville Jaguars this offseason.
#1. Signed Calais Campbell, A.J. Bouye and Barry Church
Campbell and Bouye were the big ticket items in free agency for the Jaguars and, along with Church, they can immediately help the Jaguars pass defense.
Campbell has pass rush ability and his talent should help free up space for 2015 first round draft pick Dante Fowler, Jr. and 2016 third round draft pick Yannick Ngakoue. Fowler and Ngakoue aren't as big as Campbell, but are more athletic. Campbell has all-around talent and skill at defensive end and his versatility should help the Jaguars.
Bouye is a bit of a wild card. He needs to prove that last season, in which he recorded career-highs in tackles (63) and passes defensed (16), wasn't a fluke. He has good size and speed, which has helped him in the NFL.
Church is a reliable veteran with good size and production in the NFL. He has amassed at least 85 total tackles in each of the last four seasons. In that span, he also has 16 passes defensed, five interceptions and six forced fumbles.
The Jaguars filled some major holes on their team with these three signings, as NFL.com ranked all three in the top 30 free agents this offseason.
#2. High ceiling draft picks
Adding free agents helps, but as the old saying goes, great teams win on draft day. The Jaguars made some strides at this year's draft. They added a between-the-tackles, game-changing running back in the first round with Leonard Fournette. They got one of the best offensive tackles in the draft in Cam Robinson in the second round. They selected a big-play, productive wide receiver in the fourth round in Dede Westbrook. They got a physical, run-stuffing linebacker in Blair Brown in the fifth round. Finally, they got a speedy, playmaking cornerback in Jalen Myrick in the seventh round.
The Jaguars still have work to do, but this year's draft class has a chance to be the foundation of a successful future.
#3. Let several notable free agent names go
The Jaguars have spent a lot of money in free agency over the years. They've also had a lot of high draft picks recently. Many of the players in both categories have not panned out. While still spending a lot of money this year, the Jaguars smartly let a few free agents leave that could have been re-signed.
Former high draft picks John Cyprien, Luke Joeckel and Tyson Alualu were let go. Joeckel, a former No. 2 overall pick that never panned out, signed a lucrative, one-year deal with Seattle. Cyprien and Alualu were signed to multi-year deals by Tennessee and Pittsburgh, respectively.
In addition to their three former draft picks, they let signees Kelvin Beachum, Prince Amukamara and Davon House leave. Beachum received a multi-year contract from the Jets while Amukamara and House signed one-year deals with Chicago and Green Bay, respectively.
By cutting loose from their miserable past, the Jaguars have begun the process of overturning their roster as much as possible to get the team heading in the right direction.
The worst: Still splurging on free agency
As stated earlier, the Jaguars spent a lot of money this offseason. And to be fair, since they had it, they may as well spend it. In fact, the Jaguars may have gotten it right this time, as they signed several good players that can help right away.
The issue is, at some point they need to stop giving out big money to free agents and start getting production from their young draft picks with cap-friendly contracts. The cycle of draft busts being replaced by costly free agents has to stop, and the sooner the better. With Tom Coughlin back with the team as Executive Vice President of Football Operations, that process may have already begun.