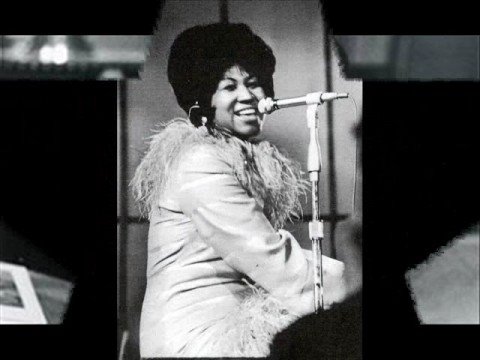 YouTube/TatanBrown
Aretha Franklin has been an artist that has always commanded respect. Ever since she began her career at the young age of 18, music fans have been simply adorned by her voice and grace. It's like heaven opens up the skies just to hear her belt the latest heavenly note, and if you haven't felt the true power of Ms. Franklin, then listen to the following top 10 songs by the woman many rightfully calls "The Queen of Soul."
10. "Soulville"
There is always somebody home in Soulville when Aretha Franklin is singing. "Soulville" is filled with '60s era soul, and Franklin cemented her secular sound with this sterling single that should get you up and do a 1960's dance.
People can make the case that early Aretha Franklin really brought home soul music in the '60s and you could have a valid point, especially when you hear a track like "Runnin' Out of Fools." This 1964 cut didn't get any action on the Billboard charts, and that's a shame because this soulful ballad could had been among one of her biggest hits. It's that good.
"Today I Sing the Blues" has the great distinction of being Franklin's first single. Though it didn't chart, "Today I Sing the Blues" is a bluesy ballad that really brings out Aretha's heavenly vocals. You can close your eyes while listening to this track and just imagine her singing this track in a smoky blues joint.
By the '80s, many of R&B and soul's greatest performers from decades earlier had to re-tool their sound top fit the technology of the time. That included Aretha Franklin, who did so with booming success. In a lot of ways, 1985's "Freeway of Love" is the pinnacle of Franklin's '80s output, and it is a tune that, to this very day, has many driving on the freeway lip singing to this track.
In 1983, Franklin was changing her sound to fit the growing synth movement that would overlap R&B and soul that year. Though "Get It Right" wasn't a smash success on the charts, it's still among the best songs of Franklin's '80s output, and it deserves to be on this list.
5. "Angel"
"Angel" is simply a slice of heaven. If course, "Angel" starts off with one of Franklin's famous opening monologues, but once she delves into the song, it's as if God himself pinned this track and gave it to the one singer who could pull it off with effortless beauty.
Reaching into her bag of tricks, Franklin pulled out "Spanish Harlem," a tribute to the Hispanic section of New York's most famous ethnic neighborhood. The Latin beat on "Spanish Harlem" is thrust to the forefront, as it should be as the beat really flushes out the track and gives it a gorgeous vibe that resonates even today.
3. "(You Make Me Feel Like) A Natural Woman"
Though Beyoncé may be the queen of making "girl power" music, she wouldn't be able to do it if Franklin's "(You Make Me Feel Like) A Natural Woman" wouldn't have become a hit in 1967. It's a ballad that, even in 2016, has a freshness and vitality that graced it 49 years ago.
2. "Think"
You better "Think" before you throw shade to this record. "Think" is one of Franklin's most well-known recordings, bringing her trademark sass to the proceedings to go along with her huge voice. "Think" will get everyone's head nodding and lip singing to the lyrics. Though "Think" is clearly iconic, there is one track in front of it that defines Franklin's career.
1. "Respect"
That track is "Respect," a single that demands women to be treated with respect and on equal footing. "Respect" is such a booming track and such a commanding record, that you fear she might jump out of the stereo if you do wrong to your woman. "Respect" is, without question, Franklin's best track and one known the world over.
Though her recording days are behind her, Franklin continues to be a headliner at live events. And why not? If it wasn't for Franklin, female artists wouldn't have the window of opportunity that they currently enjoy today. Aretha Franklin is the Queen of Soul, and nobody can come close to taking that crown away from here.