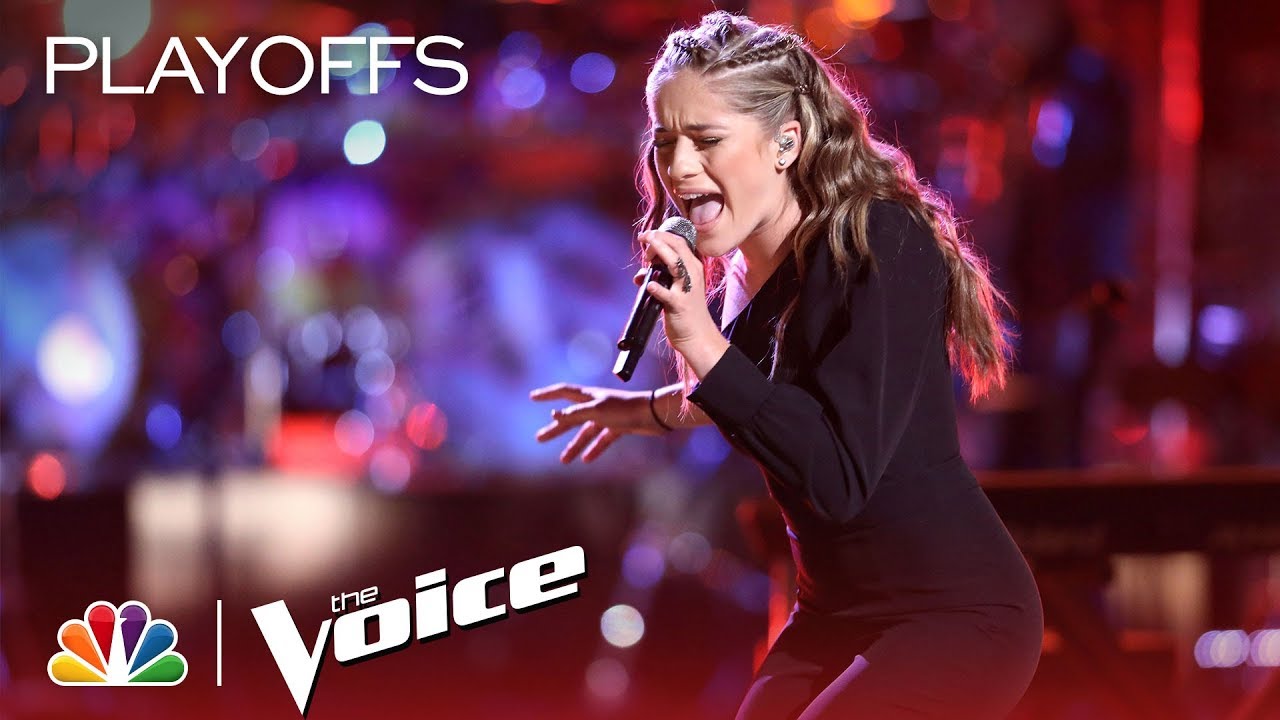 NBC/YouTube
"The Voice" got chaotic on Monday when all 24 remaining artists performed live for America's votes. The NBC singing competition changed its format again this season, opening the live playoffs by also instituting live voting. Which artists from Adam Levine, Alicia Keys, Blake Shelton and Kelly Clarkson's teams were the beneficiaries of the show's new immediate results? Here are the highlights music fans need to know from Monday's episode:
1) Who advanced to next week?
Votes were revealed at the end of the episode, and the artist with the most votes from each team was immediately put through to next Monday's Top 12 round. The winners were Team Kelly's Brynn Cartelli, Team Adam's Sharane Calister, Team Blake's Kyla Jade, and Team Alicia's Britton Buchanan. You can watch Cartelli's "Unstoppable" cover, the best performance of the night, by playing the video above. But with three of the four advancing artists being women, could we have another season of "The Voice" that's led by the ladies? It's been three seasons since a woman hasn't made at least the Top 2.
2) Who just missed out?
The other 20 artists will have to sing again Tuesday in hopes of getting enough votes to advance, and a few should be in with a shout. Keep your eye on Team Adam's Reid Umstattd, who brought this season's requisite dose of 80's rock with "I Still Haven't Found What I'm Looking For", and Team Alicia's Jackie Foster who delivered a good cover of "Never Tear Us Apart." With eight artists being selected in the next episode, their odds of moving on mathematically double, so hopefully they'll have better luck in round two.
3) Live voting makes for a rushed show
Introducing live voting and tabulating the results by the end of the episode may have added a sense of urgency for "The Voice" but it didn't improve the quality of the show. Fitting 24 performances into an episode that ran about an hour and a half (after commercials) meant that each artist had roughly two minutes to perform. They did the best they could with those time constraints, but it was hard not to feel like things would have been better if the artists - and the viewing audience - had more room to breathe. It's par for the course that "The Voice" changes things up every season, but let's hope next season they change this part back.
"The Voice" airs Mondays and Tuesdays at 8 p.m. on NBC; a recap special airs this Tuesday. "Voice" fans can get tickets to see Adam Levine and Maroon 5 live at the Sprint Center in Kansas City, Miss. now through AXS. Tickets start at just $46.50, and don't forget to check out the AXS Premium ticket options for even better seats; get your tickets now here.