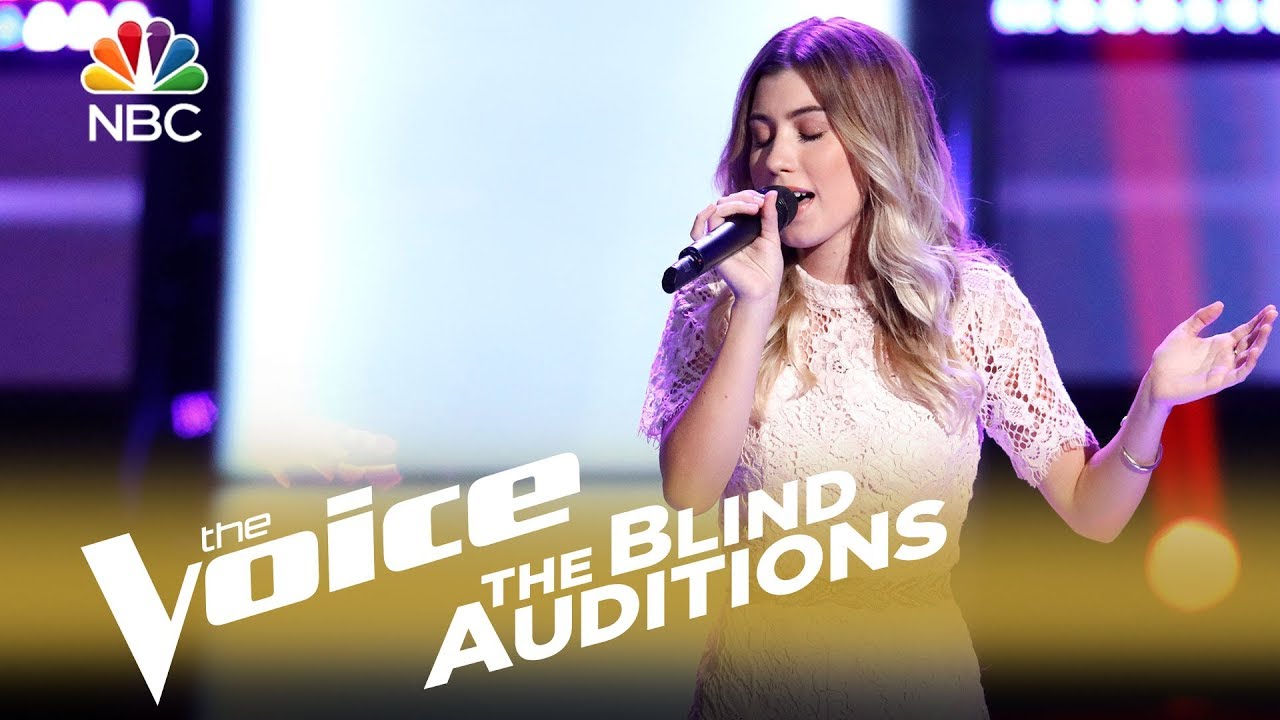 NBC/YouTube
Blind auditions for "The Voice" season 14 concluded on Tuesday, bringing the NBC singing competition's first round to a quiet end. Who did Adam Levine, Alicia Keys, Blake Shelton, and Kelly Clarkson choose for as final members of their teams? Here are the highlights music fans need to know from Tuesday's episode:
1) One artist stands out above the rest
Six artists auditioned on Tuesday and only one of them turned more than two chairs. That was teenage singer Dallas Caroline, whose cover of "Always On My Mind" won over Adam, Blake and Kelly (with Alicia being unable to turn as her team was already full). Watch Caroline's audition by playing the video above and you'll understand why she would've otherwise been a four-chair turn. For someone who's only 17, she has a tremendous amount of talent and energy. But she also seems like an odd fit for Team Blake, so will her choice of coach take her in a different direction?
The final artist to join "The Voice" season 14 was Amber Serna, who joined Team Kelly. It's always hard to judge the last pick, for the simple fact that they're only able to turn one chair. But Serna has some potential, especially on a team coached by Kelly Clarkson; it's a perfect match of pop superstar and aspiring pop singer. At 35, she was the oldest person to audition, and her experience both in music and life is always an advantage on "The Voice." Plus, considering the hype surrounding Clarkson's addition to the show, it's fitting that she wound up with the final artist. You couldn't have scripted a better ending to the blind auditions.
In an interesting turn of events, NBC posted one of Tuesday's unsuccessful auditions to the "Voice" YouTube channel. Allen Pride Bowser's blind audition did not turn any chairs, but he'll get some added exposure from both TV and the Internet. This is the first time that NBC has ever posted the full video of a failed audition, so why would they go out of their way and do that? Perhaps because the audition is totally different from what normally is heard on this show. It's a fusion of jazz and reggae, and while it may not have interested the coaches, it's an interesting watch for music fans. Click the link above to check out this artist who slipped through the cracks.
"The Voice" airs Mondays and Tuesdays at 8 p.m. on NBC. Watch a sneak peek of next week's battle rounds. Below are Blake Shelton's upcoming tour dates, with tickets on sale now through AXS:
March 15 - Columbus, OH - Nationwide Arena (Click here for tickets)
March 16 - Baltimore, MD - Royal Farms Arena (Click here for tickets)
March 17 - Philadelphia, PA - Wells Fargo Center (Click here for tickets)