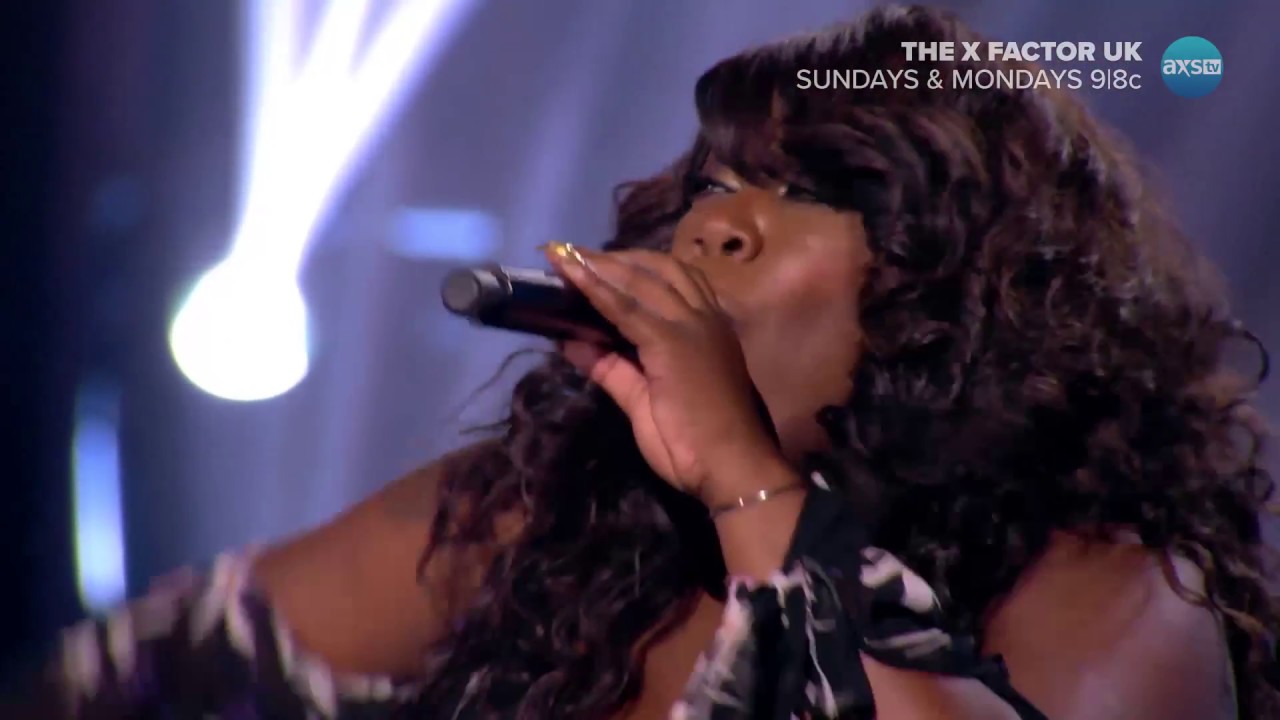 AXS TV YouTube
The Six Chair Challenge was especially hard for Overs mentor Nicole Scherzinger this week on "The X Factor UK." The Overs hopefuls hit the stage after Simon Cowell's intense Groups had their go at it. The drama unfolded for U.S. viewers Oct. 15 and 16 on AXS TV. The audience raised loud objection when Scherzy sent a fan-favorite packing. Berget Lewis, who has been strong from her first audition, didn't seem bothered by the high-stakes situation at all. Instead, she took a well-calculated risk and threw down her gauntlet with a smoking hot Bon Jovi cover.
"Bring Her Back!"
We've heard this chant before – and even previously this season when Sharon Osbourne eliminated Alisah Bonaobra from the competition last week. The audience became frenzied again when Nicole eliminated airport bags handler Talia Dean in favor of Filipino singer Loverine. Loverine was amazing. She blew the roof off with her rendition of Jennifer Hudson's "And I Am Telling You I'm Not Going." The girl can sing! But, Talia also did an incredible job with her take on "I Try." It was so genuine and very real.
All three of Scherzy's fellow judges opposed her decision and the audience wouldn't rest until Nicole met their demand. Thankfully, the former Pussycat Dolls member brought Talia back and asked singer-songwriter Will Downs' to give up his seat. The audience seemed satisfied with the swap. However, we can't help but wonder if Will was robbed. We don't quite get Nicole's connection to Slavko. Is he really more talented than Will? He reminds us, in many ways, of last season's controversial Overs rapper Honey G. We just can't see him as a recording artist – maybe a Vegas performer, at best.
Kevin Davy White and Matt Linnen are the Real Deal
Parisian singer-songwriter Kevin Davy White is unquestionably a true artist. Music flows from somewhere within him. He's not just grabbing a mic and singing some words. He conjures up feelings and emotions and we totally believe him. The same can be said for Matt Linnen. There's a spark within him that's not forced or contrived. He's not trying to be what people want. He's just putting his heart out there. Both guys deserve their seats. However, we're sad to see 71-year-old bus driver Glennroy Grant go. He had heart and soul and he will be missed.
Tracyleanne Underwhelmed and Berget Raised the Bar
We're a little bummed that Tracyleanne did such an underwhelming job on both of her performances this week. She was given a second chance after delivering a terrible rendition of "You Don't Own Me." Her second song wasn't much better. Yet somehow, she was granted John Lilygreen's seat and this swap didn't seem fair.
We had no doubt, however, that Berget Lewis was going to conquer her song. She confidently told Simon Cowell she was taking his advice and going outside of her R & B comfort zone. She sang Bon Jovi's power ballad "Always." This was a huge risk but she knocked it out of the park. Berget is clearly in it to win it and is arguably Nicole's strongest contender in the Overs category. We're glad she never lost her seat and we're rooting for her in the next round. Could Berget be the one to beat in her category? Will Slavko go home at Judges' Houses? Only time will tell.
"The X Factor UK" airs in the U.S. on Sundays and Mondays at 8 p.m. ET/6 p.m. CT on AXS TV. U.S. viewers can tweet during the broadcast using #UKintheUSA.