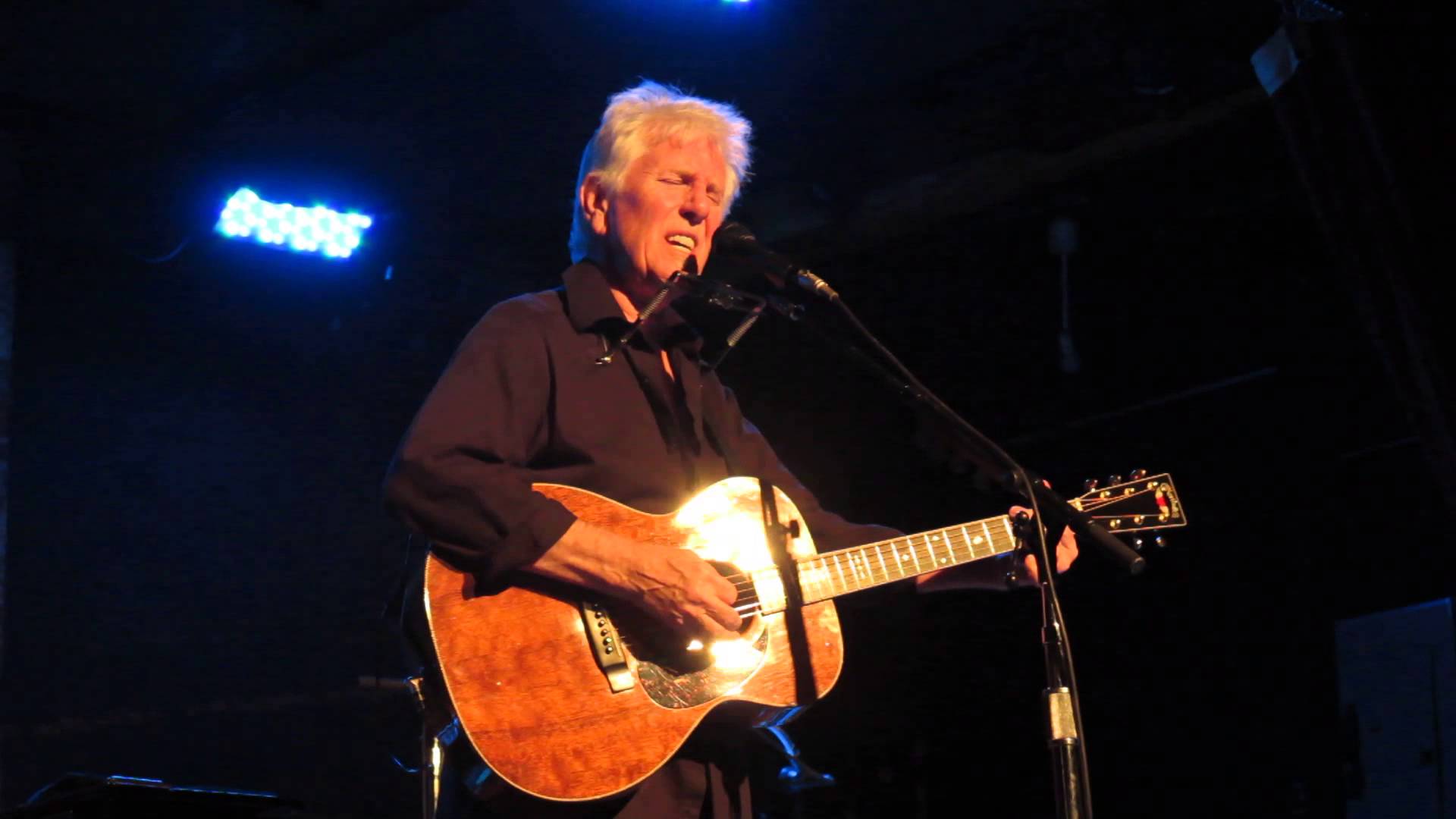 Graham Nash is a British singer/songwriter/musician who has been a well known name on the international popular music scene since the mid-'60s. From his years as a founding member of the British Invasion group The Hollies, through his time with Crosby, Stills & Nash, Crosby, Stills, Nash & Young and his solo career, Nash has been involved with iconic acts that pioneered a number of musical genres. Nash holds dual citizenship with both the US and UK and has shared his political views in the songs that he writes and performs since the late '60s. He is known for an impressive vocal range and a unique voice quality, and has been featured as guest vocalist on numerous recordings by other prominent artists. Here are ten of the best known and best loved songs by Graham Nash. 
This is a track from Nash's first solo album Songs for Beginners in 1971. A country rock tinged song of regret and determination. The instrumental arrangement features acoustic guitar, pedal steel, and piano with a groove that shifts from country to pop rock with the vocal soaring at points above it all.
Originally appearing on Songs for Beginners, a demo version of this song was featured in the 2009 George Clooney film "Up in the Air."  The song was co-written by Nash and Brit rocker Terry Reid, and is an acoustic track with a sing-a-long chorus and lots of clever word play. 
A song from GN's 2016 album This Path Tonight, this is a tune of self-reflection and taking stock of one's life. It is an acoustic track with with minimal production and an understated, fragile sounding vocal from a legendary musician and pop culture touchstone.   
This tune from 1971 features a lot of piano (played by Nash), as well as a saxophone solo which foresaw that instrument becoming the sound of choice for many tracks by artists later and throughout the '70s. Nash's impressive vocal range is on full display on this fan favorite. 
This was the lead single release from the first album by the Graham Nash and David Crosby duo in 1972. It was inspired by an encounter Nash had with The U.S. Customs. The story is unique subject matter for a rock song and is set to a strong melody with an outstanding blending of voices. It has become a Graham Nash classic and was a Top 40 hit.
From the 1974 album Wild Tales, this is a cautionary tale, said to have been inspired by Nash's own father having been falsely accused and convicted of a theft that he did not commit.  The song also is an example of the singer/songwriter's penchant for writing material that reflects his passion for political causes and the quest for a just society.
4. "Simple Man"
This is a track from the Songs for Beginners album. It is a short and sweet tune that Nash has said was a reaction to his breakup with folksinger Joni Mitchell in the very early '70s. "I just want to hold you. I don't want to hold you down."
3. "Chicago" 
Probably Nash's best known political song, this was a Top 40 single release in 1971. It was inspired by the riots during The 1968 Democratic National Convention and its subsequent fallout, including the trial of the Chicago 8 (including Bobby Seale who is referred to in the lyrics). The line "Won't you please come to Chicago just to sing" was a plea to Nash's bandmates in CSN&Y to play a fundraiser for the defense of the Chicago 8.
2. "Our House"
Another song about Nash's well known relationship with the legendary singer/songwriter Joni Mitchell, this was included in the first collection by supergroup Crosby, Stills, Nash and Young Déjà Vu. It is an ode to domestic bliss in a simpler time. It was released as a single and reached Number 30 in the US.
This song also originally appeared on the CSN&Y album Déjà Vu. It was released as a single and was a Top 20 hit in 1970. The country rock tune expresses both an instructive theme as well as being sweet and inspirational. It is a classic tune that has become timeless.