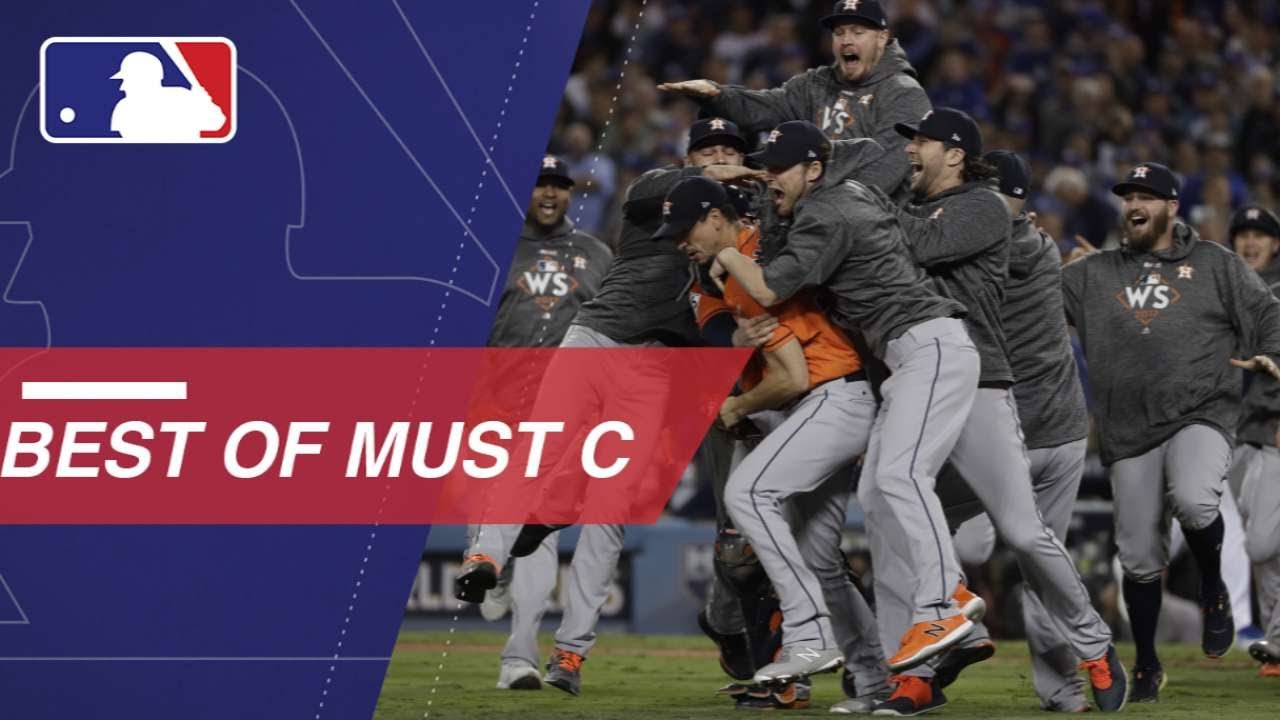 MLB/YouTube
One of the wonderful things about Major League Baseball is that every season is memorable—and perhaps not always for the same reasons. The 2017 MLB season was no exception to this rule, as many exciting and incredible things happened as the result of both amazing individual effort and outstanding team play. That's why baseball is; America's pastime, year after year, decade after decade.
Five MLB teams repeated as division champions from 2016, although five other teams made the postseason in 2017 after not making it in the prior season. That kind of turnover in October is good for the health of the sport, and while the Top 3 teams in overall payroll did qualify for the playoffs in 2017, so did the 15th, 17th, 18th, 19th and 20th teams. In fact, half of the Top 10 spending teams missed October baseball, which is a great sign for economic balance.
As the close of the calendar year approaches, we wanted to share with you our Top 10 moments of the 2017 MLB season. Enjoy!
10. Cubs cannot defend their 2016 championship
The biggest question coming into the 2017 season was whether or not the Chicago Cubs were a budding dynasty. The team started off slowly, posting a lousy 43-45 record at the All-Star break. But in the second half, the defending champs came alive, going 49-25 after the Midsummer Classic. They knocked off the Washington Nationals in the National League Division Series before losing to the Los Angeles Dodgers in the NL Championship Series. Well, you can't win it every year, right?
9. The Yankees come within a game of their first World Series since 2009
Like them or not, the New York Yankees are the flagship franchise in MLB, having won an astounding 27 championships. No other team has more than 11 titles, so the historical dominance of the nine in pinstripes is pretty clear. Still, coming into 2017, the Yankees had just one playoff appearance since 2012, and it was expected to be a rebuilding year. Nope. New York won 91 games, claimed a wild-card spot, knocked off the defending American League champions in the AL Division Series before pushing the eventual World Series champs to seven games in the AL Championship Series. 
8. It was a "Year of the Aces"
Stellar starting pitching defined the 2017 season in many ways. Cleveland's Corey Kluber won his second Cy Young Award and posted a career-best 2.25 earned run average. Washington's Max Scherzer won his second straight Cy Young—and third, overall—while striking out 12 batters every nine innings. Boston's Chris Sale punched out a whopping 308 batters this year, while Los Angeles' Clayton Kershaw won 18 games with a 2.31 ERA. Kershaw's runner-up finish in the Cy Young voting means he has finished in the Top 3 six times now in the last seven seasons. As for Sale, he finished second to Kluber, notching his sixth-straight Top 6 Cy Young finish—without ever winning.
7. Injuries to young stars
No one wants to see players get hurt, let alone star players in their 20s. But it seemed to happen a lot in 2017. Kershaw missed only six starts, though, as major injuries were the big story. Los Angeles Angels outfielder Mike Trout and Washington Nationals outfielder Bryce Harper both missed big chunks of the season: Trout missed 48 games; Harper missed 51 games. Houston Astros shortstop Carlos Correa made his first All-Star team at age 22, but he missed 53 games with an injury. In addition to Kershaw, San Francisco Giants ace Madison Bumgarner missed half the season due to an off-the-field bike accident.
6. José Altuve wins his third batting title in four seasons
Right-handed hitting prowess is rare in MLB history, but the Astros second-baseman is something special. According to MLB.com, "With 204 hits, Altuve is the fourth right-handed hitter in big league history to reach 200 hits in four consecutive seasons ..."—which is pretty exclusive company. He doesn't turn 28 years old until May 2018, and Altuve is already a five-time All-Star selection and an MVP winner—not to mention a World Series champion (see below).
5. MLB hitters smash more home runs in 2017 than in any season ever
Conspiracy theories aside, this also was the Year of the Home Run. Back in 2000 during the performance-enhancing drug craze, the highest number of HRs in a single MLB season were hit. Now, that record belongs to 2017, thanks to rookies like New York's Aaron Judge (52 HRs) and Los Angeles' Cody Bellinger (39)—both players broke their respective league's rookie HR records. Oh, and there was also that guy in Miami who hit a few HRs himself (see below).
4. The Dodgers win their first National League pennant since 1988
Hard to believe it had been that long for one of the NL's premier franchises, but Los Angeles erased the bad memories of four NL Championship Series losses since 2008 with a nice run to the seventh game of the World Series. The Dodgers have won the NL West Division five straight seasons now and seem to be building a roster that is built for the present and the future. Along with the Yankees, they should be favored to win the Series in 2018.
3. Cleveland sets all-time mark with 22 consecutive victories
It seemed for awhile like the Indians would never lose again. From Aug.24 to  Sept.14, Cleveland won 22 straight games. Even wilder, after the Indians finally lost a game, they went on to win five more straight, seven of nine and ten of 13 overall. Alas, the magic ran out in the postseason, as Cleveland lost Game 5 of the American League Division Series at home to the Yankees. It was a bittersweet end to the season for the Tribe, very reminiscent of the "Moneyball" Oakland Athletics of 2002—who won 20 straight themselves before losing in Game 5 of the ALDS to Minnesota at home.
2. Miami's Giancarlo Stanton hits 59 home runs
In all of MLB history, only a handful of players have hit as many HRs as Stanton did in 2017—and at least three of them were later identified as being performance-enhancing drug users. This puts Stanton alone in the company of Roger Maris and Babe Ruth as "clean" players to hit 59 HRs in a single season. That's impressive. After an offseason trade to the Yankees, Stanton can join Maris and Ruth in 2018  by hitting 60-plus HRs. What else to expect from a guy who hit a grand slam for his first career HR back in 2010?
1. The Houston Astros win their first-ever World Series championship
Considering what the city went through with Hurricane Harvey, this was the most-rewarding World Series result that any American could have hoped for in 2017. The Astros had a tough path to the title, needing to beat the Boston Red Sox in the ALDS, the New York Yankees in the ALCS and the Los Angeles Dodgers in the World Series. Combined, those three organizations have won 41 championships, while Houston was going for its first—with only the 15th-highest payroll in the game, no less. It really was one of the best World Series ever, and in the end, Game 7 belonged to the Houston Astros—the 2017 World Series champs.