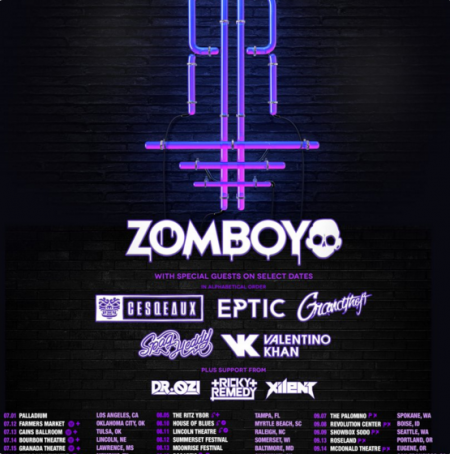 Zomboy/Twitter
English producer and DJ Zomboy will be hitting the U.S. this summer and into the fall for his Rott n' Roll tour. Zomboy will get his extensive Stateside tour kicked off in Los Angeles on July 1 before hopping across the country for Midwest and southern dates. After a show in Miami on Aug. 3, the tour will swing north for more Midwest and East Coast dates before striking back west to hit markets on the West Coast including Seattle and San Francisco.
The final leg of the tour will see Zomboy in Texas, New Orleans and Atlanta ahead of the two-night tour closer at Denver's Ogden Theatre Oct. 20 and 21. Click here to browse select Zomboy dates on AXS.
The Rott n' Roll tour will see support on select dates from a wide variety of DJs and producers including Cesqeaux, Eptic, Grandtheft, Spag Heddy, Valentino Khan, Ricky Remedy, Dr. Ozi and Xilent, with more to be announced. See below for a complete list of Zomboy U.S. tour dates.
Zomboy 2017 Rott n' Roll tour dates:
July 1 - Los Angeles, CA - Palladium
July 12 - Oklahoma City, OK - Farmers Market
July 13 – Tulsa, OK - Cains Ballroom
July 14 – Lincoln, NE - Bourbon Theatre
July 15 – Lawrence, MS - Granada Theatre
July 19 – Memphis, TN - New Daisy Theatre
July 20 - St. Louis, MO - Old Rock House
July 21 – Chicago, IL - Concord Music Hall
July 27 – Asheville, NC - The Orange Peel
July 28 – Charlotte, NC - The Fillmore
July 30 – Nashville, TN - Marathon Music Works
July 31 – Knoxville, TN - Mill & Mine
Aug. 3 – Miami, FL - The Hanger
Aug. 4 – Orlando, FL - House Of Blues
Aug. 5 – Tampa, FL - The Ritz Ybor
Aug. 10 - Myrtle Beach, SC - House Of Blues
Aug. 11 – Raleigh, NC - Lincoln Theatre
July 12 – Somerset, WI - Summerset Festival
Aug. 13 – Baltimore, MD - Moonrise
Aug. 16 – Cincinnati, OH - Bogart's
Aug. 17 – Columbus, OH - Skully's
Aug. 24 – Albany, NY - Upstate Concert Theatre
Aug. 26 - New York City, NY - Playstation Theatre (Get Tickets)
Aug. 30 – Syracuse, NY - Westcott Theatre
Aug. 31- Hartford, CT - Webster
Sept. 1 – Buffalo, NY - Town Ballroom
Sept. 2 – Pittsburgh, PA - The Rex
Sept. 6 – Billings, MT - Pub Station
Sept. 7 – Spokane, WA - The Palamino
Sept. 8 – Boise, ID - Revolution Center
Sept. 9 – Seattle, WA - Showbox Sodo (Get Tickets)
Sept. 10 – Seattle, WA - Showbox Sodo (Get Tickets)
Sept. 13 – Portland, OR - Roseland
Sept. 14 – Eugene, OR - McDonald Theatre
Sept. 15 - San Francisco, CA - The Warfield (Get Tickets)
Sept. 22 – Albuquerque, NM - Sunshine Theatre
Sept. 23 – Atlanta, GA - Imagine Festival
Sept. 27 - New Orleans, LA - Republic (Get Tickets)
Sept. 28 - San Marcos, TX - The Marc
Sept. 29 – Dallas, TX - Stereo Live
Sept. 30 – Houston, TX - Stereo Live
Oct. 20 – Denver, CO - Ogden (Get Tickets)
Oct. 21 – Denver, CO - Ogden (Get Tickets)