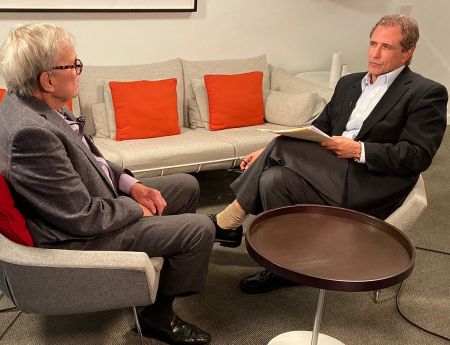 Courtesy of AXS TV
AXS TV is taking viewers through an in-depth look at one of modern history's most important decades, the '60s with its captivating new original series "The 1960s Rediscovered." The 10-episode series will launch on Sunday, June 7 at 9 a.m. ET/6 a.m. PT. Award-winning newsman Tony Fama will host the show.
The 1960s were indeed a pivotal decade for multiple reasons. Each of the ten hour-long episodes will examine all kinds of impactful events during this game-changing time. According to a press release, "The 1960s Rediscovered" will examine important aspects of the era with in-depth analysis "of the political climate, historic achievements, monumental movements, and influential pop culture landscape that left a lasting impact on the American psyche."
The show will feature commentary and candid interviews of journalists, history-makers, entertainers, and others who helped report on and shape the life-altering decade.
"Why do the 1960s continue to pique the interest of Americans across the generations? What is it about the 60s that resonates to this day?" asked Fama in the same statement. "Through the personal experiences of the men and women who came of age during the decade, we found one answer might be that in the events of that ten-year span more than 50 years ago, the America of today is still being shaped and influenced."
The series premiere episode will profile the Vietnam War. Iconic newsmen Tom Brokaw and Sam Donaldson will appear, along with rare conversations of Presidents John F. Kennedy and Lyndon Johnson in the Oval Office. On June 14, JFK's assassination is explored. On June 21, child actors Jerry Mathers and Barry Livingston are featured, along with a discussion of the Cold War. The series delves into Kennedy's 1960 presidential campaign against Richard Nixon on June 28. Rob Reiner, Melba Moore, and Marty Kroft will also discuss pop culture events.
Other series highlights and featured guests are listed below.
AXS TV's "The 1960a Rediscovered Episode Schedule Highlights - Airing Sundays at 9 a.m. ET/6 p.m. PT
June 7 – Vietnam War – Tom Brokaw and Sam Donaldson
June 14 – JFK Assassination – Sid Davis
June 21 – Cold War – Jerry Mathers and Barry Livingston
June 28 – JFK vs. Richard Nixon Campaign, pop culture Rob Reiner, Melba Moore, Marty Kroft
July 5 – 1968 Richard Nixon Election/Women's Movement – Dick Cavett, Gloria Allred, Loretta Swit
July 12 – Civil Rights Movement – Louis Gossett Jr., Donzaleigh, Abernathy
July 19 – Reflection of 1968, "Laugh-In" series premiere  -John Lewis, George Schlatter
July 26 – Career-spanning talk with Dan Rather – Dan Rather
Aug. 2 – A look at the era's entertainment scene – Paul Shaffer, Erin Murphy, Moosie Drier and more
Aug. 9 – Exploring historic 1969 moon landing – Jay Barbree, Joel Banow, Joe Namath, and more.
Tune in to AXS TV on Sunday, June 7 at 9 a.m. ET/6 p.m. PT and every Sunday thereafter to watch "The 1960s Rediscovered." Find AXS TV on your TV.