Bring your friends - the easy way
Introducing a new way to go to shows with your friends and family, without getting stuck paying for everyone's tickets.
Pay for your own tickets, then simply reserve tickets for your friends and invite them to purchase. Reserved seats are held for
a limited time so act fast!
RESERVE SEATS - FOR FREE!
After selecting your own seats, choose how many seats you want to reserve for your friends and family! At the end of your purchase you're ready to start sending out invitations. Don't worry, if your friends don't purchase their reservations, the tickets are automatically released.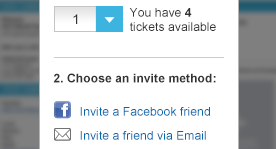 INVITING FRIENDS
You can invite friends through Facebook or via Email. Access your ticket reservations by signing into your My AXS account and clicking the AXS Invite tab. Either click invite via Facebook or invite via Email on a new reservation, add a personal message, and click Send! Don't forget to check your email, Facebook, or the reservations page for your friends' response.
BUYING RESERVED SEATS FROM AN INVITATION
The invitation your friend receives will feature a link to a page where he or she can accept or decline. Either way we'll let you know how your friend responds.
STATUS ALERTS
Check your email! You'll get email notifications alerting you when your reservations are ready and when your friends have responded to your invitations. Time running out and you still have unclaimed seats? We'll be sure to let you know with enough time to invite someone else.
MANAGING INVITATIONS
Your friend can't go or not responding? Don't worry — you've got options. You can send reminders to your friends, cancel any open invites and invite someone else, or buy the tickets yourself. For more details check out our FAQ page.