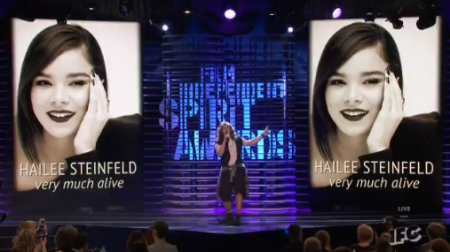 IFC
Sometimes in life, you just don't know what, or who you got until it or they are gone. Other times you're reminded by Andy Samberg of who still is alive, just in case you've forgotten.
With awards season wrapping up this evening with the Academy Awards taking place out in La La Land (plenty of pun intended), music and entertainment fans will get one last heavily-produced reminder of notable people who have passed away in the past year. You know, because nothing is better than being reminded that someone you cared about has died.
On Friday night at the Spirit Awards however, comedian and part-time Justin Timberlake collaborator Andy Samberg took a less traditional approach to the in-memoriam part of the show to do his best Eddie Vedder impersonation for a non-memoriam part of the ceremony to remind fans of who is still alive and kickin.
"Apologies Pearl Jam!" the comedian said during his well-dressed performance of their 1991 hit, "Alive," while singing a parody version in celebration the still active lives of Miloš Forman, Hailee Steinfeld, Tim Allen, Matt "Mattie D-Bones" Damon, Viggo "Captain Fantastic" Mortensen, Craig Robinson and Fred Armisen.
There's really no way of telling who will be checking out in 2017, but while we're all still here,  let's take some time to skip the uber depressing in-memoriam part of the Oscars tonight and maybe hum a little tune in celebration of our favorite celebrities who are still doing whatever celebrities do on Sundays.  
#SpiritAwards: Andy Samberg impersonates Eddie Vedder, performs 'I'm Still Alive' during non-memoriam segment https://t.co/trYJuZy6dc pic.twitter.com/XJTftfZXm4

— Hollywood Reporter (@THR) February 25, 2017