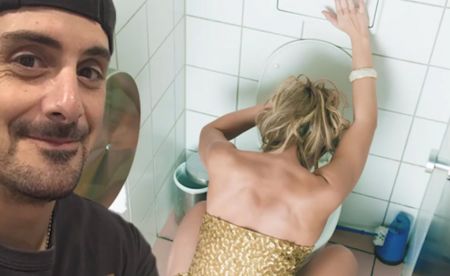 Screenshot
In a "paid public service announcement," Brad Paisley pokes fun at some of the worst selfies ever in his brand new music video for "Selfie#Theinternetisforever." He took to his social media pages in recent weeks to implore fans to submit their hilariously inappropriate and absolutely awful selfie snapshots--from photos at funerals to nudity at the beach and aerial toilet bowl moments. "You oughta be ashamed," Paisley lambasts, in his classic, "Online" kind of way.
The video was shared to Facebook earlier this week. Images of "smoking during your third trimester," falling down the Grand Canyon, spring break shenanigans and other embarrassing, intimate moments splash across the screen. Paisley even photoshops himself into several of them, including one of woman nursing a terrible hangover in the bathroom.
"Selfie#Theinternetisforever" is lifted from Paisley's forthcoming new album Love and War, out April 21. The record features collaborations with Mick Jagger, Timbaland, John Fogerty and Bill Anderson. "There is a woman, a soldier, serving who, while I am feverishly trying to get this record done. She's using the first single ['Today'] off of it for the exact purpose I recorded that song, which is [to] 'hang on to those memories that get you through the rough times,'" Paisley previously shared of the album's title.
He continued, "I wrote her back and said that 'as she's writing the email, I'm mixing the album, and I turned it into my record label today and it's called 'Love and War,' serendipitously, it seems you have reminded me why I do what I do, as well.' I'm gonna work out meeting her somewhere out there when she gets back. I hope she stays safe."
Stay tuned to AXS.com for any and all updates.
Watch the clip below: