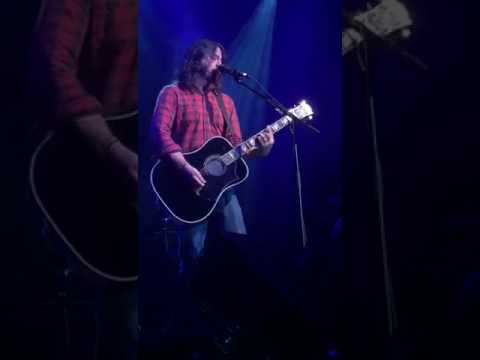 FooFightersLive.com/YouTube
Filling in for James Hetfield, who was performing with Metallica on "The Late Show with Stephen Colbert," Dave Grohl debuted a new song at the Acoustic 4 a Cure benefit show at San Francisco's Fillmore Auditorium on Monday night. As Rolling Stone reported, Grohl was backed by Foo Fighters bandmate Taylor Hawkins and longtime collaborator Rami Jaffe for "The Sky Is a Neighborhood." Grohl prefaced the song by telling the crowd that the decision to bust out the tune was spur of the moment.
"I figured on the way up here, I thought we would play a new song. We've never played this before to anybody."
Rolling Stone noted that the Foo Fighters frontman sang the song with passion, and although it was an acoustic performance, albeit with drums, it felt like a full band performance. You can check out fan-shot video above. Whether or not the song will appear on the Foo Fighters next project remains to be seen. The Foo Fighters' last album was 2014's Sonic Highways.
Watch: Dave Grohl takes one for the team to help his mom promote her new book on 'Colbert'
Acoustic 4 a Cure—benefitting pediatric cancer research at UCSF Benioff Children's Hospital—also saw performances by Pat Benatar, Mick Fleetwood, Sarah McLachlan, Steve Vai and Bob Weir. James Hetfield and Sammy Hagar founded the benefit; 2017 marked its fourth year.
WATCH MORE VIDEOS FROM AXS