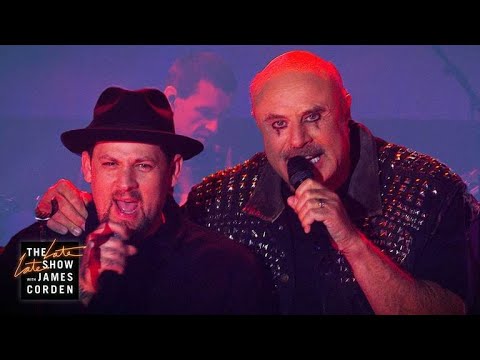 The Late Late Show with James Corden/YouTube
Good Charlotte had a very surprising collaboration on Thursday night when they teamed up with TV host Dr. Phil McGraw! Watch the musical performance from "The Late Late Show with James Corden" by playing the video above, before you get ticketed to see Good Charlotte live at AXS.
The band was on the show to promote their current album Generation Rx and their corresponding tour, while Dr. Phil was there to be interviewed. Cue a comedy sketch where Corden pretended to be a guru who would help Good Charlotte become even more famous. He then introduced Dr. Phil, while the Madden brothers openly wondered if they were being punked. Still, when Good Charlotte began their performance, Dr. Phil came onto the "Late Late Show" stage in punk-rock eyeliner and a studded jacket, and he proceeded to sing off-key for the rest of the song.
Good Charlotte did actually perform "Prayers" later in the show without their new co-star, but the completely unexpected team up will definitely go down as one of the funnier bits in music history. Bonus points to Corden for even coming up with the idea, and kudos to both Good Charlotte and Dr. Phil for being willing to play along with the joke.
Related: Watch Good Charlotte's emotional video for "War"
This isn't the first time a late-night show has tried musical mashups. "Jimmy Kimmel Live" previously introduced "Mash-Up Mondays," where two completely different musical groups would perform together as one hilariously named band (such as Of Monsters and Men At Work).However, at least those collaborators were all actual musicians; this one left a lot to be desired, and Dr. Phil probably isn't getting invited to join Good Charlotte on the rest of their tour.
Good Charlotte has nine dates remaining on their 2018 North American tour. Tickets range from $38.50 to $53.50 and are on sale now through AXS. Don't miss your last opportunities to see the band live this year, and perhaps in the future, they'll collaborate with Oprah Winfrey or Dr. Oz.
Below are Good Charlotte's 2018 tour dates, with tickets on sale now through AXS:
Oct. 28 - Cleveland, OH - Agora Theatre (Tickets)
Oct. 29 - New York, NY - Terminal 5 (Tickets)
Nov. 06 - Minneapolis, MN - Skyway Theatre (Tickets)
Nov. 07 - Kansas City, MO - Arvest Bank Theatre at the Midland (Tickets)
Nov. 14 - Denver, CO - Ogden Theatre (Tickets)
Nov. 17 - Portland, OR - Roseland Theater (Tickets)
Nov. 18 - Seattle, WA - Showbox SoDo (Tickets)
Nov. 20 - San Francisco, CA - The Warfield (Tickets)
For more on Good Charlotte, visit their band page at AXS.