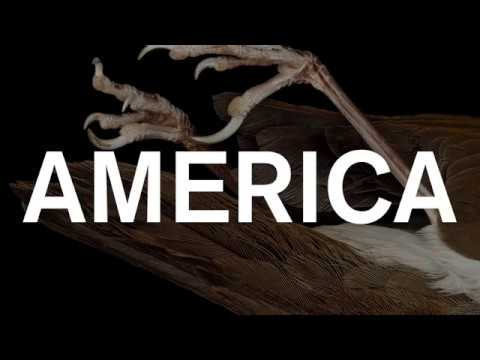 Duran Duran/YouTube
To celebrate the 30th anniversary of their 1988 album Big Thing, Duran Duran has shared a video for the Big Thing track "The Edge of America." The visual is a clever collaboration between Duran Duran and Colombian-Venezuelan artist and computer engineer David Medina which juxtaposes the migration of both the avian and human communities to show the "impossibility of purity and the necessity of movement as important forces in nature and in our human condition," according to a statement that came with the video.
For the visual, Medina "wrote custom software that creates different and unexpected automatic compositions and collages from an extensive bank of public domain images around immigration and bird collisions in the US." As the software uses algorithms to create the visuals--which change to the music, among other parameters--no two videos are alike.
Nick Rhodes commented on how "struck" he was with Medina's vision of connecting nature and humanity showing a disrupted harmony. He marveled at how "The Edge of America" was more relevant today than it was when they first put Big Thing out. This video, Rhodes continued, offers a "gaze at humanity which expresses compassion & empathy, that is so sadly lacking in much of our world at this time." 
You can check out the video for "The Edge of America" above.
Duran Duran's Big Thing is the groundbreaking English synthpop group's fifth studio album following 1986's Notorious, 1983's Seven and the Ragged Tiger, 1982's Rio and their 1981 self-titled debut album. 
Duran Duran was one of the most successful groups of the 1980s, selling over 100 million records and winning two Grammy Awards. They were a big part of the first wave of MTV groups and were considered among the MTV generated "Second British Invasion" along with bands and artists like the Human League, Flock of Seagulls, Billy Idol and Robert Palmer. Duran Duran has continued to consistently release music up until the present decade. The band's latest album was 2015's Paper Gods.