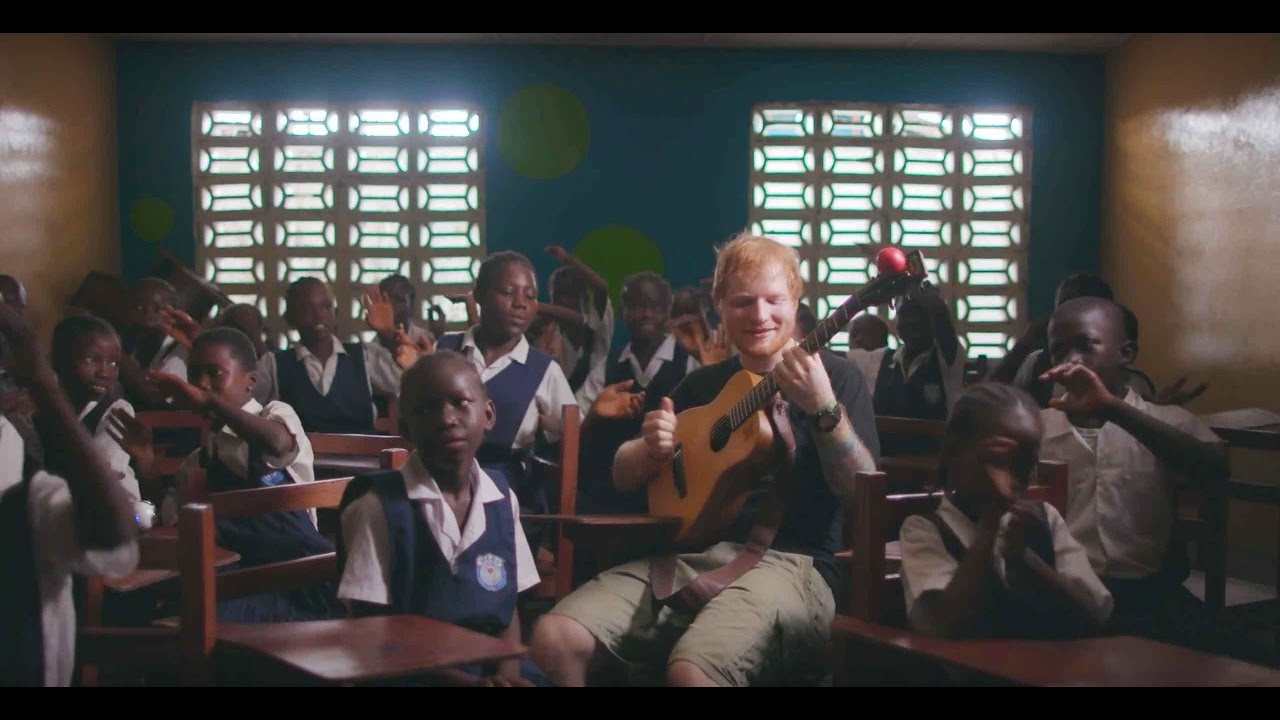 Red Nose Day USA YouTube
Ed Sheeran has been a huge advocate for Comic Relief's Red Nose Day campaign for a long time. But this year, he made his first trip to Liberia to visit an education center funded by the UK based-charity. He was invited to make a film documenting his experience while he was there. Red Nose Day posted the exclusive video on YouTube earlier today and the "Shape of You" singer penned an emotional diary of the trip to accompany it for People magazine.
Sheeran talks about meeting Peaches, a girl whose dad died due to the Ebola outbreak. Peaches sang Sheeran a hymn and started crying. When he asked her what was wrong, she tearfully replied she was sad because her father taught her the song.
"In my whole career, I have never cried on camera but I'm completely overwhelmed," Sheeran writes. "I can't imagine what this little girl has witnessed and I break down. I feel ridiculous and guilty about crying but I just can't stop myself."
Peaches asks Sheeran to come home with her and he happily obliges. His day started on an up note. He spent time with smiling school children who were laughing and playing. As he followed Peaches into the center of the slum, the reality of the horribly dark and grim circumstances hit him.
"It's hell. The stifling alleyways are crammed with filthy wooden shacks that look like they could collapse at any moment," Sheeran explains. "I'm careful not to step in the rotting rubbish and food scraps lining the path, but there's no escaping the smell. Thousands of families are living in squalor and there's a stench of sewage everywhere. This is where Peaches calls home."
The emotional video is beautifully done. It offers a captivating montage featuring the Grammy-winning singer-songwriter greeting the school children, playing games, laughing, and singing with them. The stark, horrific conditions these children live in, however, are painfully obvious.
Three young boys huddle together in a row boat on the beach, trying to sleep. Garbage is scattered through the streets. A baby looks solemnly on, wearing only a diaper. All the while, Sheeran's anthem "How Do I Know" provides an inspirational, musical backdrop.
Ed Sheeran is literally positioned at the top of the pop music platform with the mammoth success of his third studio album, ÷ (Divide). Continents away from the privileged world he's become accustomed to, Sheeran knows even before he found fame, he grew up in a stable home. He had a roof over his head, posters on the walls and food to eat. Some of the kids he met in Liberia only have the clothes on their back.
Such a jarring picture of impoverished existence should find anyone who lives in better circumstances feeling thankful for what they have. There are millions more kids like these scattered in other parts of Africa and around the world. Sadly, there are even some who live in slums here in America.
As previously reported, Sheeran rescued a young homeless boy named JD and five of his friends during his visit, using his own personal funds. We can all make a difference. As Sheeran points out in his somber account, $60 gives a child living and working in Liberia everything they need to go to school for an entire year. These critical funds can help foster hope for a better future.
You can watch the touching film in the attached video. (Grabbing Kleenex is recommended!)
Click here to learn more about donating directly to Red Nose Day.
The Red Nose Day US special will air Thursday, May 25 in an NBC TV special. Find Ed Sheeran tickets and updates here at AXS.