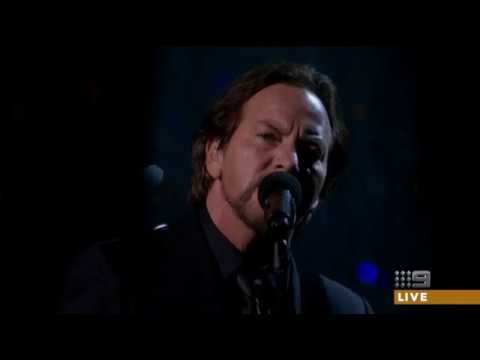 ZwanMonster YouTube
Each year, one of the most heartfelt sections of the Oscars is the "In Memoriam" segment, dedicated to honoring those stars who have left us all too soon. This past year, the music industry was especially shocked by Tom Petty's unexpected death in October 2017, at the age of 66. This year's Oscars ceremony paid special honor to Petty, bringing in Pearl Jam star Eddie Vedder to cover Petty's heartbreaking "Room at the Top" while the reel of recently departed stars played behind him.
Vedder joins many in a long list of fellow musicians who have honored Petty since his passing, including Father John Misty, The Killers during ACL Festival and even Coldplay. Vedder's touching rendition of Petty's 1999 single was a stripped down version, featuring softened vocals alongside Vedder's electric guitar and backing keyboards. "Room at the Top" was an aptly chosen song, as it notes lyrically upon both forgetting life's troubles and watching everything in the world from above. Vedder's surprise appearance and tasteful rendition surely did not leave a dry eye in the house Sunday night.
Other stars memorialized at this year's Oscars were actors Roger Moore, Sam Shepard, Martin Landau and John Heard; directors John G. Avildsen of "Rocky," Jonathan Demme of "Silence of the Lambs" and George Romero of "Night of the Living Dead;" and comedian Jerry Lewis. In addition to Petty, rock legend Chuck Berry was also honored during the memorial segment of the awards show. Unfortunately, other musicians including Chris Cornell of Soundgarden, did not make the cut into the program.