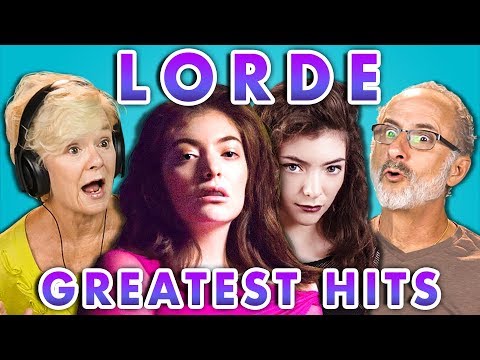 React/YouTube
Recently it was rock and roll's elder-statesmen Tommy Lee who was seen watching kids hilariously react to hearing his classic Mötley Crüe tunes for the first time in their lives. This time around, its some older music fans who have the chance to hear music from another popular era for the first time, courtesy of Lorde. The recently new video is part of a YouTube series titled React, which shows normal Internet users legitimately reacting to hearing or seeing things that can only be experienced thanks to the glorious exposure platform that is the world wide web.
"You know I'm not that up to date on many current artists," one first-time listener can be heard saying before the music begins. "There are a lot that I'm really, really impressed with, but you know..."
As seen in the video above, fans of the older age groups are seen listening to Lorde's music and breaking down her lyrical content from songs like "Royals," "Team," "Yellow Flicker Beat," and "Green Light." Contrary to what younger fans may believe, the older listeners do an impressive job of breaking down what her lyrics mean, or how they could possibly be interpreted. Leave it up to fans from an era where pop music lyrical content had a bit more substance to really understand what today's youth are trying to say.
Opinions from the first time listeners range from "I can see why she's successful" to "She has a wonderful voice, and it helps enrich the lyrics." We couldn't agree more folks!  
Lorde has been performing throughout the summer at major music festivals across the country and will set off on her own North American headlining tour early next year starting on March 1. Tickets for select shows on the arena tour are on sale now and can be purchased by clicking here.
`