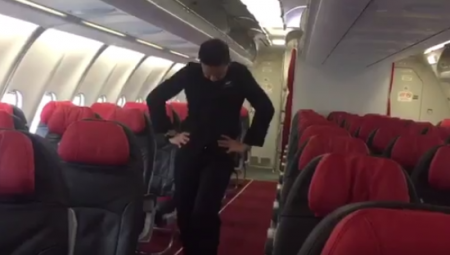 FarhanRzman/Twitter
Anyone who grew up in MTV's Total Request Live (TRL) era remembers those iconic music videos from Britney Spears. A generation's worth of kids grew up memorizing the scandalously fun dance moves from her collection of memorable TRL and award show moments. Her 2004 hit "Toxic" may be the most famous music video from the six-time MTV Video Music Award winner's highly accomplished career, and a flight attendant from AirAsia recently got a chance to recreate those epic moves of hers.
One of the benefits of being a flight attendant is you often find yourself hanging out on an empty airplane. If you're going to be casually killing time on a $110 million flying computer, you may as well enjoy it. A flight attendant named Assraf Nasir, who works for the Malaysia-based airline AirAsia, recently got the chance to use that down time of his to recreate the video of the 2004 single. For those who may not remember, "Toxic" was the one where Spears is also dressed like a flight attendant, and dances her way throughout the cabin in that swanky blue uniform of hers.
As seen in the video below, Nasir is dressed a little more professional than Spears was, and has the choreographed dance moves down like a pro. We're guessing this isn't the first time that Mr. Nasir has used his office as a place to practice his early-2000s inspired dances, but on a plane that nice, can you blame him? It would have been way more awesome had he recorded the video mid-flight after talking all of the passengers into joining his mile high dance fantasy. 
Check out the video of Nasir's move as well as the original below and see who did it better.
A Toxic performance on A330 by @AssrafNasir. Cc @britneyspears 💃🏼💃🏼 pic.twitter.com/xoRksL1DZw

— huski 🌙 (@FarhanRzman) March 16, 2017