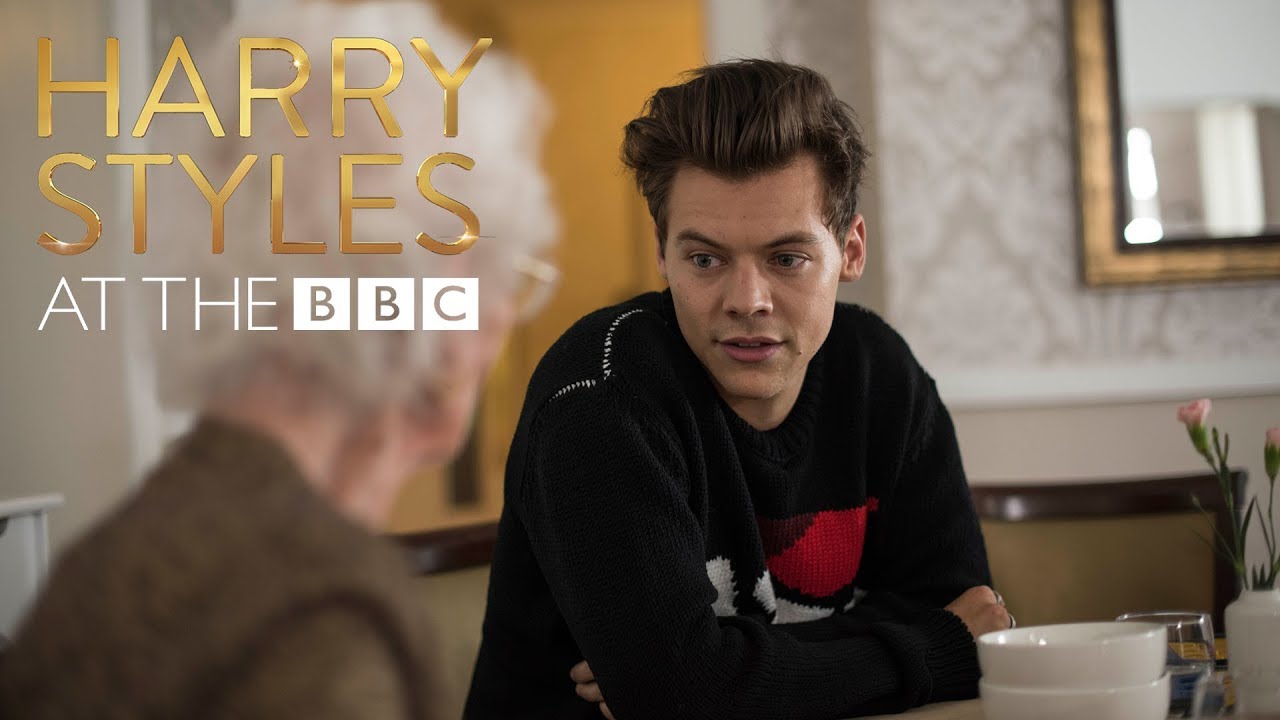 BBC Music YouTube
It looks like Harry Styles might have stumbled onto a new "calling." During a recent BBC visit to see his good friend Nick Grimshaw, the charismatic BBC 1 radio host posted a clip of their time together on YouTube on Nov. 2. In it, Grimmy is driving the "Carolina" singer and tells him he wants to take him to see some friends who will keep him grounded noting, "They're just like a safe gang. They're wicked. You're going to love them." An all-smiles Harry says "Great!"
The pair of pals step into what appears to be a nursing home and a group of cheery elderly folks greet them and ask, "Who are you?" A staff member introduces them saying, "This is Nick and Harry." Someone shouts, "Where's Tom?" and everyone laughs. Another staffer passes out Bingo cards and Harry volunteers to be the caller.
The elderly crowd seems totally clueless about Harry's global superstar status as he steps up front and showcases the prizes. "We have a handkerchief set, a Mars bar, and another chocolate bar (the group let out some "whoops" at the sound of the candy)." He continues, "We have somebody butter, for buttering the body, (Someone shouts, "Will you come with it?") and then he picks up a copy of his self-titled debut solo CD and says, "And an overrated debut album."
The whole scene is so funny and while the Bingo players aren't the least bit affected by who this young man is, they are clearly aware of his hunky good looks. He makes quirky rhymes about each number as he calls them like "44 droopy drawers" and "73 Queen Bee." Maybe he should consider a new day job – or at least a sideline gig?
Perhaps the funniest thing of all is Harry can't seem to give his CD away to the Bingo winners. He whispers at Olive, for instance, "Take the album!" and she goes straight for the chocolate instead. They pick up the pacing for the full house round and Mary is the grand prize winner! Does she take Harry's chart-topping CD? Of course not. When Grimmy asks if she wants shower gel, chocolates or the Harry Styles album, she goes straight for the shower gel and doesn't mess around. Harry thrusts out his bottom lip in adorable disappointment and they bid farewell, shaking hands with people as one player notes, "I thought he was rather dishy."
This is probably the sweetest understatement we've ever heard. Harry shouldn't lose heart, though. The crowd seemed to love his Bingo calling skills and we're quite sure they would happily welcome him back for an encore performance.
You can watch Harry Styles' entire Bingo calling stint in the video above and stay tuned to AXS for Harry Styles tickets, news and updates.