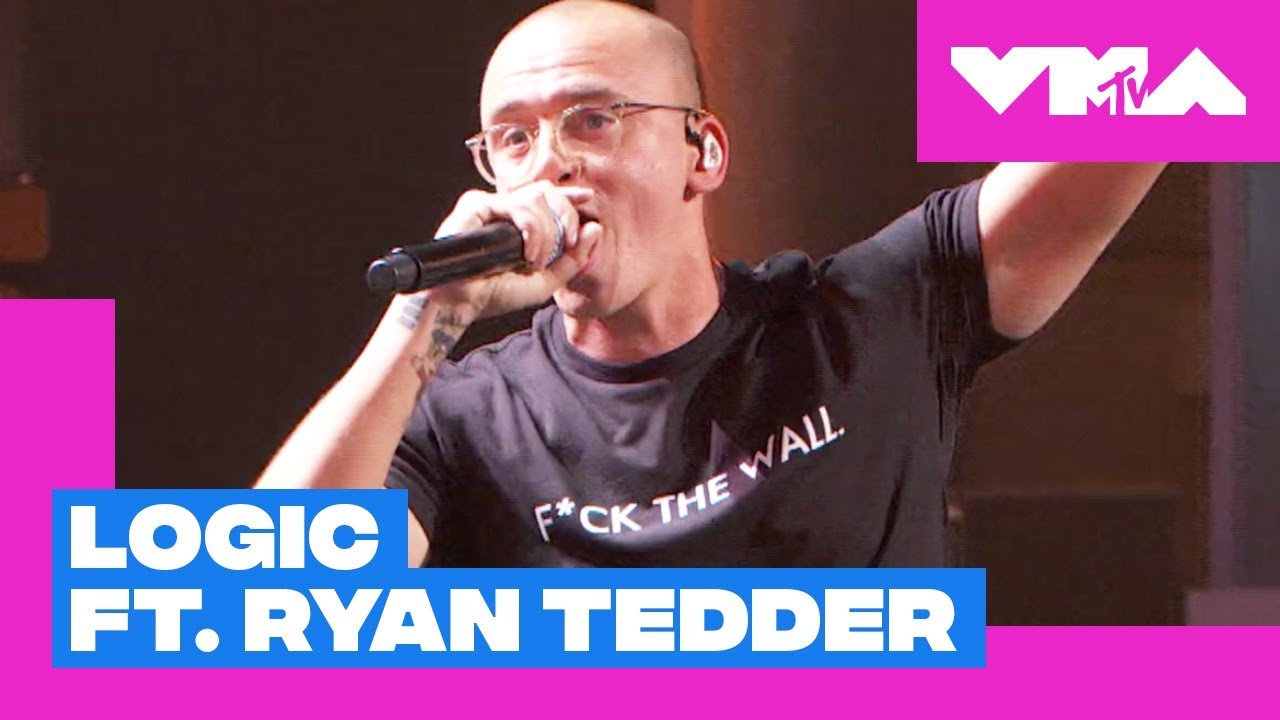 MTV/YouTube
Logic often expresses his social views into his music, and his performance at the 2018 MTV Video Music Awards--held Aug. 20 at New York's Radio City Music Hall--was no exception. Taking to the stage with OneRepublic frontman Ryan Tedder, Logic wore a T-shirt that said "F*ck The Wall," in an apparent statement against President Donald Trump's declaration to build a wall across the U.S.-Mexican border as part of his administration's immigration policy.
Logic and Tedder were then joined on stage by numerous people--who were identified in news reports as immigrants and their families--wearing T-shirts that said, "We Are All Human Beings." The T-shirt-wearing participants made a dramatic entrance by walking through Radio City Music Hall to get to the stage Eminem famously did something similar at the 2000 MTV VMAs (which were also held at Radio City Music Hall), where he had several young men dressed to look like Eminem clones walk from outside and through the venue during his performance of "The Real Slim Shady."
During Logic and Tedder's performance, several of the on-stage participants got emotional and tearfully hugged each other, while the stage sported a giant banner saying "U.S. Border Patrol" in yellow-and-black coloring and design similar to crime-scene tape. At the end of the performance, the participants held lit candles and raised them in the air. The participants included immigrant leaders from the National Domestic Workers Alliance, United We Dream and Make the Road New York and their family members. People.com reports that a press release stated that the performance was meant "to protest the Trump Administration's cruel and inhumane family separation policy that tore thousands of children from their parents and continues to keep hundreds apart."
The performance was Logic's second consecutive time performing at the MTV VMAs. In 2017, he made his MTV VMA stage debut by doing another emotionally stirring performance with Khalid and Alessia Cara of their hit "1-800-273-8255." Although the song's video was nominated for two VMAs this year but didn't win, the message behind the song will resonate for years to come.
Logic wrapped up a headlining North American tour in August, and he has upcoming concerts in London on Sept. 10, and at the 2018 iHeartRadio Music Festival in Las Vegas on Sept. 22.