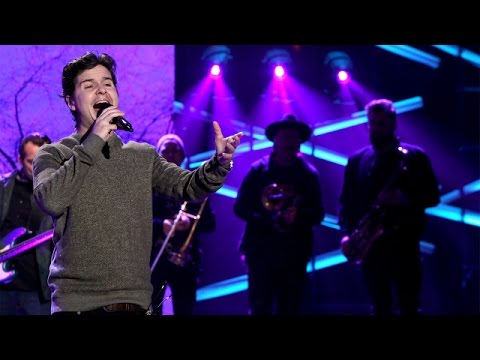 Ellen
Grammy nominated Danish band Lukas Graham appeared on 'Ellen' on Jan. 6, 2017 to perform 'You're Not There.' Band front-man Lukas Forchhammer introduced the song by saying it was dedicated to his father, who passed away at the age of 61. He said that the song was even more meaningful now that he is a father himself. A video of the performance is attached.
Lukas Graham has been nominated for three Grammy Awards for "7 Years," including: Best Pop Duo/Group Performance, and Best Song of the Year. The 59th Grammy Awards will be presented on Feb. 12, 2017 and will be televised live on CBS Television Network.
The band faces stiff competition for the Grammy Award. The nominees for Record of the Year category include:  Lukas Graham for "You're Not Here," Adele for "Hello," Beyoncé for "Formation," Rihanna Featuring Drake for "Work," and Twenty-One Pilots for "Stressed Out."
"7 Years" and "You're Not There" are two of the songs on the album "Lukas Graham." The band members include Lukas Forchhammer (front-man), Mark Falgren (drummer), Magnus Larsson (bass), and Kasper Daugaard (keyboard).
"You're Not There" was written by Lukas Forchhammer as a message to his father, Eugene Forchhammer, who passed away in 2012 at the age of 61. Forchhammer became a father himself in 2016. "7 Years," a song that has gotten a lot of airplay, is a song about the stages of life and the advice that his parents gave him along the way. Forchhammer includes his personal experiences in the music he writes for the band.
The band is currently touring across North America through Feb. 1, 2017. On Feb. 28, they will start to tour Europe.