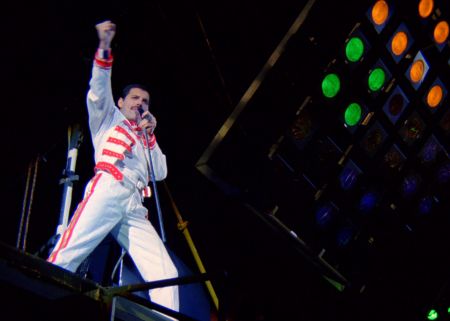 AXS TV Promo Image
Classic rock fans can gear up for another spectacular week of programming from AXS TV for the week of Feb. 24 through March 2. The lineup kicks off with another all-new installment of the network's exciting original countdown series "The Top Ten Revealed" as music maven Katie Daryl leads viewers on a ranking of the best "Songs That Remind You of The Movie" on Feb. 24 at 8:30 p.m. ET/5:30 p.m. PT. More programming details and highlights are listed below.
SUNDAY FEB. 24
"The Top Ten Revealed" – Songs That Remind You of The Movie – 8:30 p.m. ET/5:30 p.m. PT
"The Top Ten Revealed" returns with a fun movie-themed twist as series host and executive producer Katie Daryl leads a social media-voted ranking of the 10 best songs that remind you of the movie. There have been some epic theme songs which immediately remind us of the movie they're in. An example that quickly springs to mind is "Eye of the Tiger" by Survivor, from the beloved "Rocky" franchise.
It remains to be seen if this song made the fan-voted list, however. Daryl will be joined by Dee Snider, Rikki Rocket and more rock experts as this week's list is unveiled.
Concert Premiere – "Tom Jones with Alison Krauss" – 9 p.m. ET/6p.m. PT
Legendary solo artist Tom Jones has forged a prolific career for over five decades. The iconic Welsh singer has delighted audiences around the world crooning unforgettable hits like "She's a Lady," "What's New Pussycat," "Kiss," and more.
The Grammy and BRIT Award-winning artist will perform a career-spanning selection of songs, including some new tracks in this entertaining concert film. Plus, Jones teams up with bluegrass legend Alison Krauss for a few must-see duets including "Opportunity to Cry," "Raise a Ruckus," and "Didn't It Rain."
FRIDAY MARCH 1
"WOW – Women of Wrestling" – Episode 7 – 9 p.m. ET/6 p.m. PT
"WOW – Women of Wrestling" returns for a new episode as the newest champion sets her sights on defending her title. Havok, The Monster of Madness arrives in the lineup and Jungle Grrrl continues to fight for a victory. Featured matchups include Havok vs. Eye Candy, Jessie Jones vs. Chantilly Chella, The Temptress vs. Fire and the Beverly Hills Babe vs. Jungle Grrrl.
SATURDAY MARCH 2
"Saturday Stack" – Classic Rock – starting at 1 p.m. ET/10 a.m. PT
AXS TV is celebrating some classic rock legends in the latest Saturday Stack lineup of concerts, profiles and interviews featuring some of the genre's biggest acts. The daylong marathon features Queen, The Rolling Stones, Aerosmith, Eagles and more. Check out the Saturday Stack Schedule At-A-Glance below.
1 p.m. ET – "The Big Interview: Robert Plant
2 p.m. ET – "Classic Albums: Pink Floyd The Dark Side of the Moon
3 p.m. ET – "Rock Legends: Creedence Clearwater Revival
3:30 p.m. ET – "Rock Legends: Eagles"
4 p.m. ET – "Rock Legends: Queen"
4:30 p.m. ET – "Queen – Hungarian Rhapsody – Live in Budapest"
6 p.m. ET – "Aerosmith – Live at Donington
8 p.m. ET – "The Rolling Stones – Havana Moon"
Be sure to tune into AXS TV on Feb. 24 or set your DVR now to catch all of this week's lineup. Find AXS TV on your TV and stay tuned to AXS for programming news and updates.